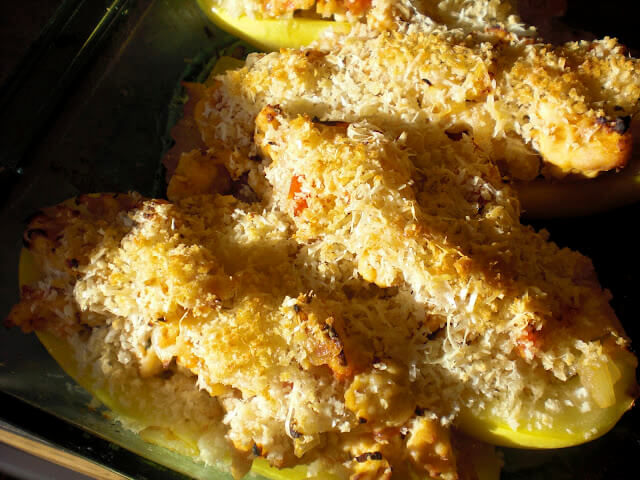 This dish was a delightful way to say good-bye to summer and welcome Fall into our arms. It used the last of the bounty of summer squash and tomatoes from the Farmer's Market, and wow did they shine! This meal was so flavorful and meaty and yet surprisingly light. The perfect combination of summer and fall, a meal in seasonal limbo.
I am trying desperately to avoid falling into the trap of mac 'n cheese for dinner every night this Fall while I am single-mothering it (although I humbly admit this happens about once a week). So, when I see a recipe that has "stuffed" in the title I usually file it away for a rainy Sunday, when I have time to make a leisurely meal. But, something captivated me about this recipe so I read on and realized this was going to be a quickie. I made this meal during Anna's afternoon nap. When she woke up I popped these beauties in the oven and dinner was on the table 20 minutes later.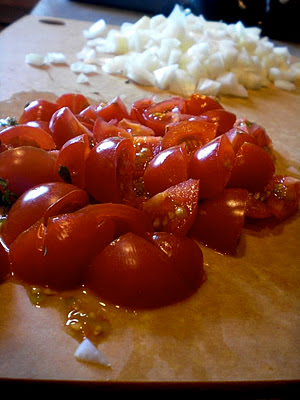 A little bit of chopping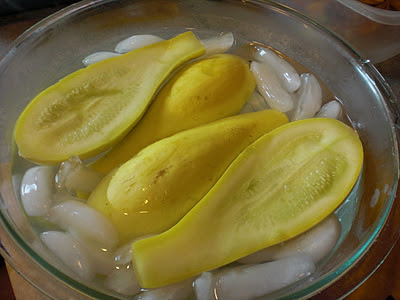 A little bit of boiling...followed by an ice bath.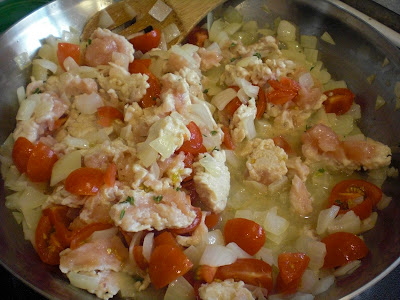 A little bit of sauteing
A little bit of stuffing... and then into the oven with it.
See? Simple! I hope you enjoy this as much as I did. Now, go make it before all the fresh, local stuff is gone!
Summer Squash Stuffed with Ground Chicken, Tomatoes & Onion
Ingredients
2

large yellow summer squash

2 tbsp

olive oil

1 large yellow

onion, chopped

1 pound

ground chicken

1 pint

chopped cherry or grape tomatoes, quartered

1/2 cup

chicken broth

1 tsp dried

thyme

Salt and pepper

1/3 cup

p

anko

1/4 cup

grated Parmesan
Directions
Preheat oven to 425°F. Spray a large oven-proof baking dish lightly with cooking spray and set aside.
Fill a large bowl with ice water. Bring a large pot of water to a boil. Cut squash in half lengthwise and place in boiling water. Cook in boiling water until slightly softened, about 7-8 minutes. Transfer squash to ice water bath for 3 minutes, then remove.
Scrape out seeds and stringy pulp from each squash half, leaving a large cavity for stuffing. Pat dry with paper towels. Arrange snugly in prepared baking dish.
Warm 1 tbsp oil in a large skillet over medium-high heat. Add onions and cook until softened, about 5 minutes. Add chicken and cook, stirring to break up until crumbly, about 3 minutes. Stir in tomatoes, broth and thyme. Increase heat to high and cook until turkey is cooked through and some of the liquid has evaporated, about 7 minutes. Season with salt and pepper to taste.
Place equal amounts of filling in each squash half and pile high in center. Sprinkle panko and then parmesan evenly over the top and drizzle with remaining olive oil; if making ahead of time, assemble everything except the olive oil and drizzle this on just before baking. Bake about 20 minutes or until golden brown on top.
Eat it!