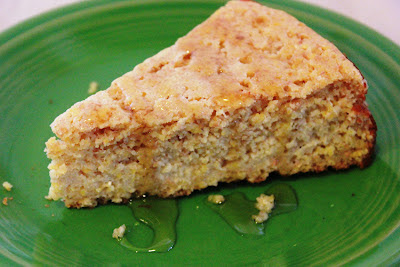 Corn bread has always been a very ho-hum kind of side to me. Usually I'll skip it to save the calories for a more delectable treat, like say, cookies or chips or
anything
else. More often than not it is dry and crumbly and lacking in the flavor department. Bo-ring!
We had some friends over for chili a few weeks ago and I decided it was time to find a winner corn bread recipe. You know, so they didn't stare at me with that blank look in their eyes when I said "there's no corn bread." I've gotten this look before, and I don't like it. Regardless of how I feel about corn bread, it appears that most people think that having corn bread is non-negotiable when it comes to chili. Fine, I'll play that game. Bring it.
Mace bought me the
Tassajara Bread Book
for Christmas this year and if you've never checked this one out, I highly recommend it. The recipes are easy to follow and unbelievably good. The cornbread recipe I found in this book was moist, it wasn't overly sweet and it was all gone by the end of the night. An entire 9" spring form pan worth, between 4 people. I'd say this one's a winner.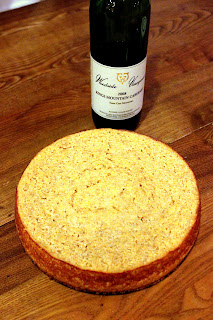 PRINT THIS RECIPE!
Deep Dish Cornbread
Adapted from Tassajara Bread Book
8 servings (or 4 very large servings)
1 cup coarse-ground cornmeal
1/2 cup whole wheat flour
1/2 cup all-purpose flour
1/4 wheat germ
2 tsp baking powder
1 tsp kosher salt
2 eggs
1/4 cup honey
1/4 cup melted butter
3 cups low-fat buttermilk
Honey, for serving
Preheat oven to 350F. Grease a 9" springform pan and set aside.
Combine cornmeal, flours, wheat germ, baking powder and salt in a medium bowl. In a separate bowl, combine eggs, honey, butter and buttermilk. Mix the wet ingredients into the dry ingredients. The batter will be very liquidy.
Pour the batter into the prepared springform pan and bake for 45 minutes, or until the top springs back when lightly touched.
Allow to cool on a wire rack. Remove the ring from the pan and cut into wedges. Serve with butter and a drizzle of honey and then...
Eat it!!