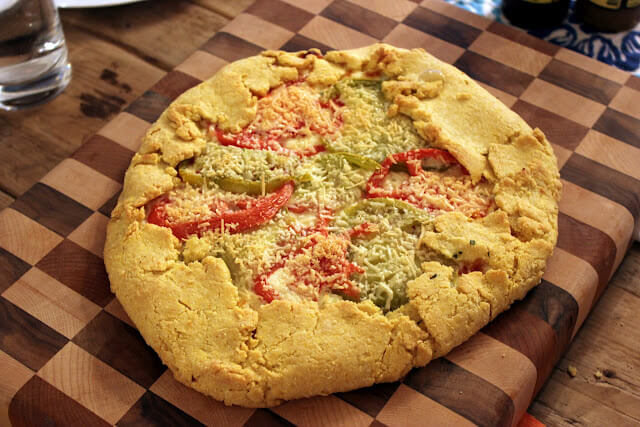 I have been out of a cooking groove lately. I don't fall asleep dreaming of the gourmet meals I'll be making over the weekend. I don't salivate over every single thing I see on Pinterest. I have a stack of cooking magazines I haven't touched in months and my recipe stand is collecting dust. While I have an awesome excuse for all of this, I really do miss cooking. A lot.
My awesome excuse? My awesome husband. He is off of school for the summer, and home with Anna during the days while I trudge off to work. I walk into the house every night after work to the most beautiful scene before my eyes...Mace preparing dinner, Anna by his side on her stool "helping" him. Two sets of matching eyes, two vibrant smiles turning to greet me. Swoon.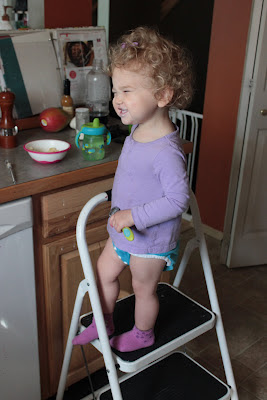 A couple times though, I have dusted off my apron and plunged into the kitchen to make one of my all-time favorite summer meals. I love the fresh produce and simple flavor combinations that come along with summer cooking. This galette is the perfect vehicle to showcase those gorgeous heirloom tomatoes that abound during the summer months. The cornmeal crust replaces the heavy, buttery crust of traditional galettes and gives it a lightness perfect for these hot summer months.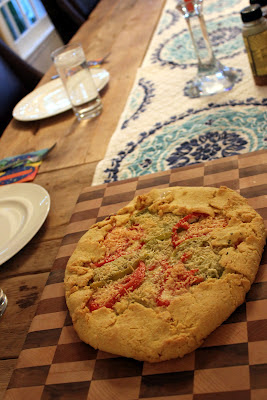 PRINT THIS RECIPE!
Cheesy Tomato Galette with Cornmeal Crust
Crust:
Adapted from Cooking Light
1 1/2 cups (200grams) all-purpose flour
1/2 cup yellow cornmeal
8 tablespoons (1 stick) unsalted butter, cut into pieces and chilled in freezer 20 minutes
1 teaspoon kosher salt
1/4 cup + 2 tablespoons ice water
Filling:
2 large heirloom tomatoes (or other fresh ripe tomato)
8 ounces (2 cups) mozzarella cheese, shredded
1 cup ricotta (
homemade recipe here
)
2 tablespoons fresh basil, chopped
Salt and pepper, to taste
2 ounces (1/2 cup) Parmesan cheese, shredded
To make the crust: Add flour, cornmeal, and salt to a food processor and pulse several times to combine. Add butter and pulse until it resembles coarse meal. Turn the food processor on and slowly add the ice water until just combined (don't form a ball). Dump mixture onto counter and gently form into a disk shape. Wrap in plastic wrap and chill at least 30 minutes and up to one day.
Preheat oven to 425F.
To make the filling: Slice the tomatoes approximately 1/4" thick, lay on a dry paper towel and lay another paper towel on top. This will soak up excess water in the tomatoes and reduce the amount of excess moisture when the galette is baked.
Add the mozzarella, ricotta, basil salt and pepper in a medium bowl and stir to combine. Set aside.
Roll crust on a lightly floured counter into a 14" circle. Fold in half, then in half again and move to a baking sheet covered with parchment paper. Unfold crust.
Spread mozzarella mixture evenly on the crust, leaving a 2" border around the outside edge. Top cheese with tomato slices, then Parmesan. Gently fold edges of crust over all around, to partly cover filling.
Bake in middle rack of oven for 25 minutes, or until lightly browned. Allow to cool for 5 minutes, then cut into wedges and...
EAT IT!!