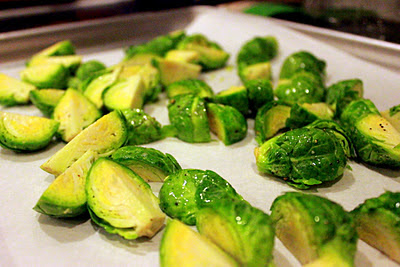 Remember when you were a kid and you hated Brussels sprouts? Oh, did I hate them. I am pretty sure every kid hates Brussels sprouts, and I fully expect Anna to follow suit. But, if she doesn't, I am pretty sure it'll be because I got these crunchy roasted little morsels to her mouth before someone could ruin it for her by steaming them into a wilty soppy mess and presenting them to her as a vegetable. Until two weeks ago, I truly thought I hated Brussels sprouts. I haven't let one come anywhere near this mouth since I was a kid.
But, I truly believe that sometimes
food
chooses
me
. I find myself cooking in the kitchen and I think
did I really pick this
? And then I am amazed and my life is changed. Brussels sprouts are definitely one of those foods that picked me. Thank you so much Brussels sprouts. I am sorry for all my years of disdain and snobbery. You did not deserve that.
I fell in love with Brussels sprouts so hard and fast that I have gone through 4 pounds of them in two weeks. Not kiddin'. I have dressed them up with brown butter, with a sprinkling of parmesan, with garlic and onions. But, truly, these darling itty bitty cabbages are my favorite with a little olive oil and some salt and pepper. They are so perfect they need nothing more.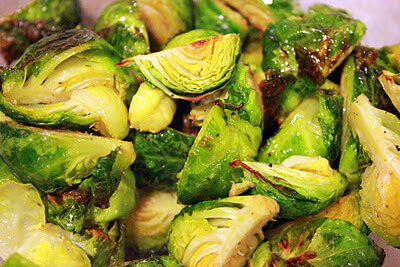 Ingredients

Brussels Sprouts, halved or quartered into bite sized pieces
Olive Oil
Salt & Pepper, to taste
Preheat the oven to 425F. Toss the Brussels Sprouts lightly in oil, then season with salt & pepper. Put in a single layer on a metal baking sheet and roast for 15-20 minutes or until they are lightly browned and a little crispy on the edges.
Remove from the oven and...
Eat it!!