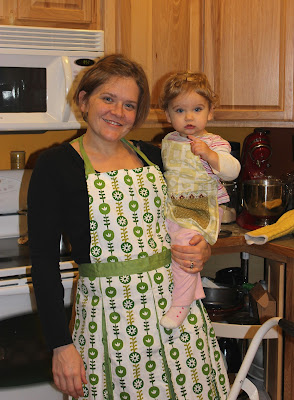 So, I was a bit indulgent and bought my 1 year old an apron
for Christmas. What's the big deal? A girl can dream, right?
Oh, this girl makes my day, everyday.
She's so darn cute.
I think Mace and I say this at least 47 times a day. She really made my Christmas too.
Its so fun to experience everything through a child's eye again...it makes you remember just
how cool
life really is. My train of thought these last couple weeks has been about slowing down and living in every moment. I watch Anna and the
only
thing she knows how to do is live in the moment. She doesn't have an agenda for the day, she doesn't worry about the time, she doesn't focus on how many things she needs to try and cram into her day in order to feel like she's accomplished something at the end of the day. She focuses solely on what is right in front of her. She reads a book, then she sees her piano and plays a tune, she gives me a hug, she smiles and she's off again to harass the dog and eat her lunch that she threw on the floor. She's happy and she's content.
I want to live this way. I want to focus only on those things in my present environment. I want to stare into my husband's eyes and talk about our days and not worry about cleaning up the kitchen. I want to sit on the floor and play with my daughter and not get distracted by my email or all the dog fur piling up in the corners (oh, but there's
so much
). This is my resolution for 2012. Slow down. Enjoy this day, this hour, this moment.
I do feel this way sometimes already. I feel this way in the kitchen. I never think about anything else I so urgently need to do when I am chopping vegetables or kneading dough or lovingly decorating a cake for somebody-I-love's birthday. When I am in the kitchen I am in a world that is solely mine and I am pouring love and joy and creativity into food. Delicious dishes that will nourish the people closest to my heart.
On Christmas Eve I made dinner for my family and dear friends and poured the love on thick. I made a spinach and mushroom tart that my mom-in-law raved about for days. I was proud of this meal and sat back to enjoy our evening, and basking in each moment we spent together. I hope you were able to pour some love out in your own little way to those you adore this holiday season. It's a few days late, but Happy New Year!
PRINT THIS RECIPE!!
Mushroom, Spinach & Goat Cheese Tart
Serves 6-8
Crust
Adapted from
Simply Recipes
2 1/2 (350 grams) cups all-purpose flour
1 tsp kosher salt
1 tsp sugar
1 cup (2 sticks) unsalted butter, frozen (see note), cut into 1/2" cubes
6-8 tbsp ice water
*note: this crust turns out the best if you freeze the cut-up butter for at least 20 minutes prior to using.
Filling
1 lb (16 oz) Mushrooms, sliced (I used mini portobellos, but cremini or any field mushroom would work too)
1/2 Red onion, chopped
4 Cloves garlic, minced
1 Tbsp olive oil
1 lb (16 oz) Spinach, blanched or thawed frozen, and wrung dry (see tip
here
)
10 oz Goat cheese
Salt & Pepper to taste
To make the crust: add flour, salt and sugar in a food processor and pulse to combine. Add the butter 1/3 at a time until incorporated and it looks gravelly. Slowly add ice water a tablespoon at a time until the dough comes together when pinched. You may not need the entire 4 tbsp. Remove the dough from the food processor and knead gently until the dough comes together in a cohesive ball. Flatten into a disk, wrap in plastic wrap and refrigerate at least 30 minutes and up to 24 hours.
To make the filling: Preheat oven to 425F. Combine mushrooms, onion and garlic and toss with olive oil and salt and pepper to taste. Spread on a baking sheet lined with aluminum foil and coated with cooking spray. Roast mushrooms in the oven for 20 minutes, or until softened.
In a large bowl combine the hot mushrooms, spinach and 8 oz (1 cup) of goat cheese. Stir to combine. The hot mushrooms will aid in melting the goat cheese and will help evenly combine all the ingredients. Season with salt and pepper to taste. Set aside.
On a well floured counter or pastry mat, roll the crust dough into a 14-inch circle. Gently, fold the pastry in half and move to a pizza pan covered with parchment paper, then unfold. Cover the dough within an inch of the edge with the mushroom and spinach mixture. Top with the remaining 2 oz of goat cheese. Fold the edges of the dough inwards to create a free-form tart.
Bake in the oven for 20-25 minutes, or until the crust is golden brown and flaky. Allow to cool for 5 minutes, then slice into 8 wedges and...
Eat it!!