Something I love about our new lives is the absolute presence of my husband. For the past three years he was so engulfed by grad school, that being completely present was, understandably, challenging. These past couple months, since he started working, he has been 110% present in everything we do. We get out and do things without a deadline and with total leisure. We enjoy each other, our children, basking in the indulgence of just
being
together. Oh, the simple pleasures.
Last weekend we decided to take a family outing to Afton Apple Orchard to pick raspberries and apples. If you know anything about my eldest, its that this girl loves berries more than almost anything on earth. Girlfriend would eat them breakfast, lunch and dinner if we could afford it. So, this was obviously heaven on earth to her. At first, the price of $4/pint seemed steep to us for pick-your-own raspberries...until we realized that we all likely ate our weight in raspberries while we were picking them.
It was a day that was so hot and humid that it was hard to breathe, but it didn't matter an ounce. We were together, and we were basking in the hot sweaty glow of our togetherness.
We gorged on raspberries and apples.
There was a petting zoo and we met this guy.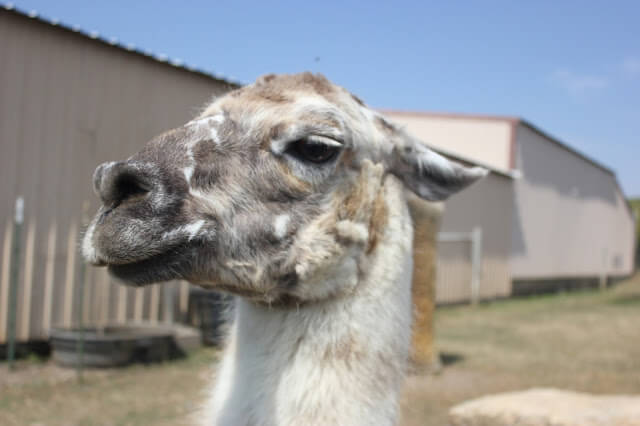 Llamas are hilarious by the way.
And when we got home, I made these delicious raspberry bars. Actually, delicious doesn't quite capture the essence of these bars. Amazing, awesome. So. Damn. Good. There is 18 tablespoons of butter in one little 9' x 13" pan. If that doesn't clear up how good these bars are, then you probably don't know anything about butter (I forgive you)...but you'll still love these bars.
PRINT THIS RECIPE
Raspberry Streusel Bars
Serves 12-15
Adapted from Cooks Illustrated
2 1/2 cups (12 1/2 ounces) all-purpose flour
2/3 cup (4 2/3 ounces) granulated sugar
3/4 teaspoon kosher salt
1 cup (2 sticks) + 2 tablespoons unsalted butter, divided, cut into 1" pieces and softened
1/4 cup packed (1 3/4 ounces) brown sugar
1/2 cup (1 1/2 ounces) old-fashioned rolled oats
1/2 cup pecans, finely chopped
3/4 cup (8 1/2 ounces) raspberry jam
3/4 cup (3 1/2 ounces) fresh raspberries
Adjust oven rack to middle and preheat oven to 375F. Line 9" x 13" pan with tin foil, allowing it to hang over the edges to easily remove the bars later. Grease foil and set aside.
Using a stand mixer fitted with the paddle, mix flour, granulated sugar and salt on low speed until combined. Add the 1 cup of butter a piece at a time, then continue mixing until the mixture resembles wet sand, about 1 to 1 1/2 minutes.
Measure 1 1/4 cups loosely packed flour mixture into a separate medium bowl and set aside. Dump the rest of the flour mixture into the prepared pan and, using clean hands, firmly and evenly press the mixture into place to cover the bottom of the pan. Bake until the edges begin to brown, about 14 to 18 minutes.
Meanwhile, add brown sugar, oats and pecans to the reserved flour mixture and stir with a wooden spoon until combined. Add the remaining 2 tablespoons of butter and work it into the mixture by rubbing it between your fingers until the butter is incorporated.
Combine jam and raspberries in a small bowl and mash gently with a fork until combined but some raspberry pieces remain.
Spread jam mixture evenly over the hot crust. Sprinkle the streusel topping evenly over the jam, but do not press it into the topping. Return pan to the oven and bake until the streusel is a deep golden brown and the jam is bubbling, about 22 to 25 minutes.
Allow to cool to room temperature on a wire rack for 1 to 2 hours, then remove the bars from the pan by lifting the overhanging foil. Cut into squares to serve, and then you most certainly should...
EAT IT!!