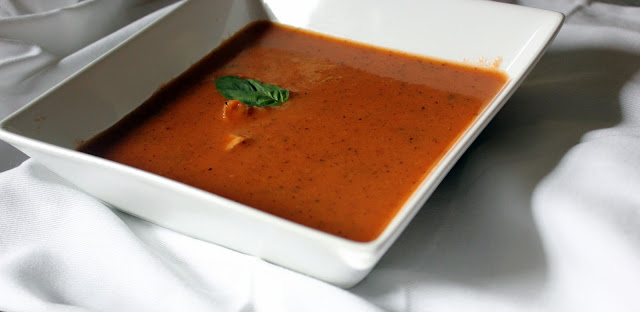 I have finally made it back to my pre-Claire weight (although all my clothes don't fit yet, hmm...), and I must thank Weight Watchers (and to be honest here, breastfeeding) for this occasion. And recipes like this one. I have an old Weight Watchers cookbook that contains 20 minute or less recipes...and they actually are! These recipes are delicious, super-quick and have made it almost effortless to lose the baby weight. Plus, since I don't have a ton of time to spend in the kitchen these days, these quickie meals have been a savior in our household recently.
This recipe called for turkey originally but I substituted deli chicken sliced about a half inch thick, and it was delicious. This could also easily be made vegetarian by omitting the chicken and swapping the chicken broth for veggie broth. Make sure to get fire-roasted tomatoes which add a little bit of a smoky flavor. I amped up the smoky flavor by adding a little smoke paprika...divine!
Mace isn't always excited when I make soup for dinner, but he slurped this one up and had seconds. As my friend
Hope
would say, this one is a
Weekday Winner
!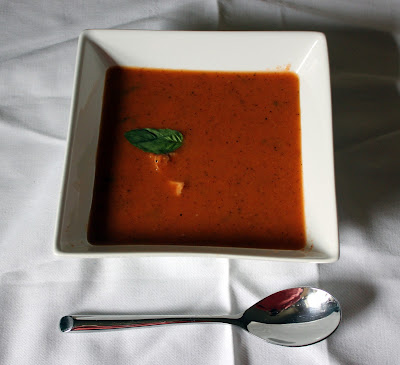 Tomato Basil Soup with Chicken
1 tablespoon olive oil
1 large onion, diced
1 carrot, diced
4 cups chicken broth
28 ounce can fire roasted tomatoes
1/2 teaspoon sugar
1/2 teaspoon salt
1/4 teaspoon fresh ground pepper
1/2 teaspoon smoked paprika (optional)
1/2 pound deli chicken sliced 1/2" thick, cubed
1/2 cup milk
1/4 cup fresh basil, chopped
Heat the oil in a soup pot over medium-high. Add the onion and carrots and cook, stirring occasionally, until softened, about five minutes. Add the broth, tomatoes, sugar, salt, pepper and paprika if using. Bring to a boil and then reduce to a simmer and cook for five minutes.
Using an immersion blender, puree the soup until smooth. Add the chicken and milk and simmer an additional 3 minutes, or until heated through. Stir in the basil and then...
EAT IT!
And because I know the nutrition facts via the cookbook, and like to know them when possible, here they are. You're welcome!
Serving Size: 2 cups
Calories: 200
Fat: 4g
Carbohydrates: 21g
Dietary Fiber: 3g
Protein: 20g