This weekend turned out to be filled with loads of my favorite people. I was desperately craving a weekend like this and am entering my work week with a full heart and head. Saturday was filled with mild anxiety in respect to time, due to Anna's
nap strike
, but I managed to pull off a darn good fall soup that didn't disappoint.
The Khomenko's came over to share this soup and tales of their recent European adventures with me. I love it when they come over and fill my house with noise and love. I love taking pictures of Anna hanging with Danesa because they adore one another. And Luca, in all his awesomeness, loves jumping in on this action too:
Which is doubly awesome because he always finds a way to covertly swipe my camera and I find pictures later that always make me smile.
More in another post on my Sunday at Paws Up for the
Canine Classic
and leftovers with the Wilsons. But for now, on to the soup!
My inspiration for the soup was a good lookin' pumpkin and a buttercup squash that I bought at the Farmer's Market a couple weeks back. As usual, I picked through piles of recipes until I found the very most perfect one. Soup. I mean, because who doesn't want a bowl of piping hot soup when its 90 degrees out? But seriously, if you found a recipe that is finished with ginger infused brown butter, could you resist it for even a second?
This was a fun soup to make because it had so many different flavors and I was curious to see how they would meld themselves together. Nutmeg and garlic? Interesting. Carmelized onions and cardamom? Wow. Ginger, brown butter, cloves, sugar, gaaaah...my tastebuds are going crazy just thinking about this.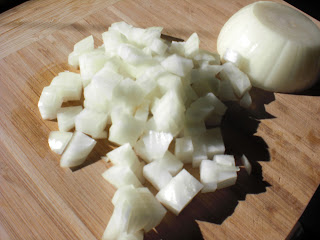 A word on nutmeg: always use fresh grated. Always always. Always. It is so much more delicious, flavorful and amazing than the pre-ground stuff. Don't argue with me on this one. You won't win. Just try it one time and you will never go back.
Ooo...and look how pretty!
I had never cooked with a real live pumpkin before, only the canned stuff, so I was slightly intimidated going into this venture. You know what? It's just like carving a jack-o-lantern, but way less annoyng because you just chop that sucker in half and scoop out the seeds. No creativity involved and you don't get pumpkin guts up to your armpits when you're scooping the seeds out.



Another cooking side note. I am a recent convert to the whole prep bowl phenomenon. For a really long time I thought they were annoying extra dishes and never bothered with them. But as time goes on, and I become a little older, and much much wiser, I am seeing the benefit of these beautiful little things. I am no longer standing over a skillet frantically measuring out spices and panicking that my sauce will burn. I do this ahead of time in these tiny little adorable bowls and cooking suddenly becomes so much more relaxing.








All right already! On with the recipe. Enjoy!





Pumpkin Ginger Soup with Brown Butter


Adapted from My Recipes

Ingredients





2 pounds baking or pie pumpkin

1 1/2 pounds buttercup squash

8 cups

vegetable broth, divided

7 tbsp

unsalted butter, divided

2 tbsp

plus 1 tsp finely chopped fresh ginger, divided

1/4 tsp

freshly ground nutmeg

2 large

carrots, peeled and chopped

1/2 cup

packed light brown sugar




Directions




Preheat oven to 375°. Cut pumpkin and squash in half lengthwise. Scoop out seeds and any stringy parts, reserving pumpkin seeds for later. Put flesh side up in a large roasting pan with 1 cup broth. Cover pan with foil and bake until vegetables are tender when pierced with a fork, about 1 hour. When pumpkin and squash are tender, scoop out flesh and set aside; discard skins. Reserve any liquid in bottom of pan.

Toss pumpkin seeds in olive oil and garlic powder and put on a baking sheet lined with aluminum foil. Season lightly with salt. Bake in the oven for 10-15 minutes or until browned.

Meanwhile, melt 3 tbsp butter in a large pot over medium-high heat. Add onions and 1 tsp salt. Cook, stirring occasionally, until onions are soft and start to look creamy, about 5 minutes. Reduce heat to medium and cook onions, stirring every few minutes, until they turn a caramel color, about 40 minutes.

Turn heat up to medium-high. Add garlic and 2 tbsp fresh ginger. Cook, stirring until fragrant, about 2 minutes. Add ground ginger, nutmeg, cloves, and cardamom. Cook, stirring, 1 minute. Add remaining 7 cups broth, the carrots, cooked pumpkin and squash, and reserved liquid from roasting pan. Bring to a boil, then reduce heat and simmer until carrots are tender, about 15 minutes.

Process vegetables in a food processor (in batches) until completely smooth. (For silky-smooth soup, you can pour the puréed soup through a strainer.) Return to pot and stir in brown sugar. Season with salt to taste. Keep warm over low heat.

Melt remaining 4 tbsp. butter in a small frying pan over medium-high heat. Add remaining 1 tsp fresh ginger. Cook, stirring occasionally, until butter starts to foam. Stir mixture constantly until it starts to brown. Pour mixture into spouted measuring cup lined with paper towels. Drain the browned butter through the paper towels to catch the ginger and browned butter bits.

Ladle the soup into bowls and top with a swirl of brown butter and pumpkin seeds.

Eat!