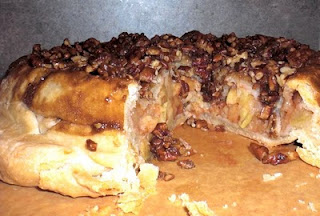 This recipe was like apple pie on steroids. Or pecan pie on steroids. I can't decide. All I know is that when I see a recipe with pecans in it, it absolutely has to be made immediately! And thank goodness Zachary was in town this weekend to help with the eating part of it, because, like I said, the creation of this pie just couldn't wait. It was begging to be made. As it was, we only made it through half this pie in five days, this pie is enormous! And amazing. Really really amazing. And really fun to make.
How can one not fall madly in love with pecans tossed in melted butter and brown sugar, knowing it will be baked into gooey pecan roll-like oblivion? With apple pie underneath.
A double crusted delight.
After it bakes you put a plate on top and turn it upside-down so the pecan roll-like heaven smiles at you from the top.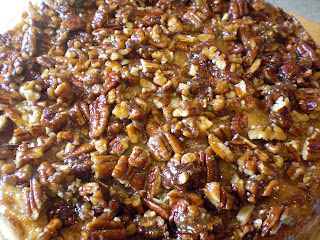 There is absolutely no reason not to love this pie.
Upside-Down Apple Pie
Ingredients
Crust (adapted from Baking by James Peterson):


3 cups all-purpose flour
3/4 tsp salt
1 cup + 2 tbsp cold butter, cut into small pieces
1/2 cup + 2 tbsp ice water
3 tbsp additional ice water as needed
1 1/2 cups

chopped pecans

3/4 cup

firmly packed brown sugar

1/2 cup

butter, melted

5 Granny Smith apples (approx 2 1/2 lbs), peeled cored and chopped into 1" pieces

1/4 cup

granulated sugar

2 tbsp

all-purpose flour

1 1/2 tsp

ground cinnamon

1/2 tsp fresh

ground nutmeg
Directions
To make the crust: combine flour and salt in the bowl of a stand mixer fitted with a paddle and mix on low speed for 30 seconds. Add the cold butter and mix on medium speed until gravelly, about 2 minutes. Add water and mix on low speed until the dough comes together and starts to form a ball. If the dough is still dry, add ice water 1 teaspoon at a time until it comes together. Remove dough from stand mixer, cut dough in half and form into two discs. Wrap the discs separately in plastic wrap and put in the fridge.

Preheat oven to 375°. Stir together pecans, brown sugar and melted butter and spread onto bottom of a 9-inch deep dish pie plate.
Remove one pie disc and roll on a lightly floured surface into an 11" circle. Fit pie crust over pecan mixture in pie plate, allowing excess crust to hang over sides.
Stir together apples, sugar, flour, cinnamon and nutmeg. Spoon mixture into crust, packing tightly and mounding in center. Repeat instruction above for rolling out second pie crust. Place remaining pie crust over filling; press both crusts together, fold edges under, and crimp. Place pie on an aluminum foil-lined jelly-roll pan to catch spills. Cut 4 slits in top of pie for steam to escape.
Bake at 375° on lower oven rack 45 minutes to 1 hour, or until juices are thick and bubbly, crust is golden brown, and apples are tender when pierced with a toothpick through slits in crust. Shield pie with aluminum foil after 50 minutes, if necessary, to prevent excessive browning. Cool on wire rack 10 minutes. Place a serving plate over top of pie; invert pie onto serving plate. Remove pie plate, and replace any remaining pecans in pie plate on top of pie. Let cool completely (about 1 hour).
Oh, and you must eat this with vanilla ice cream!