I hear myself whining a lot these days about how bored I am. Poor poor me. I find myself staying home a lot because it requires so much energy to pack it all up and get us moving. I made a conscious decision to fix that this past weekend. No boredom will occur in our house this weekend, no sir-ee! But, then m
y friend Jen invited Anna and I to join her for a fundraising event for the Human Society on Sunday and my immediate thought was: no, too much work. Then, the more I thought about it during the course of our conversation, the more I knew I would be going on Sunday. Anna and I love dogs, we love being outdoors and we really love spending time with Jen. I suddenly couldn't think of a single reason not to go. And I am so glad I went.
The event was the Canine Classic, which took place at Paws Up Ranch, and it was a rockin' time. I will be going every year from here on out. This was a running and hiking event and had distances from a two-mile hike to a half-marathon. We did the two-mile hike because I wasn't sure how the monkey was going to hang in her new pack...but she did all right.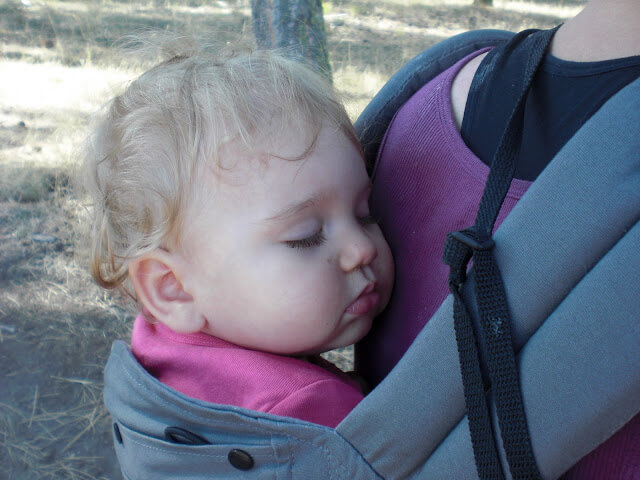 Anna and her many sleep-in-the-pack poses!
I hadn't been out to Paws Up before Sunday (particularly because this is an upscale "glamping" resort that specializes in $800+/night tent cabins) and was excited to check it out. The day was gorgeous, the scenery amazing, and the company the best!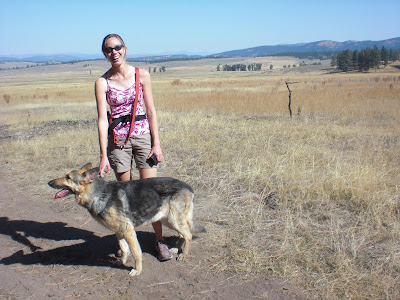 After the hike we headed back to the picnic pavillion for a bbq lunch. Can you believe I didn't even get a picture of the gourmet spread? Clearly my head was elsewhere. Like wrangling Miss Thang, who was only interested in hamburgers, canines and eating rocks.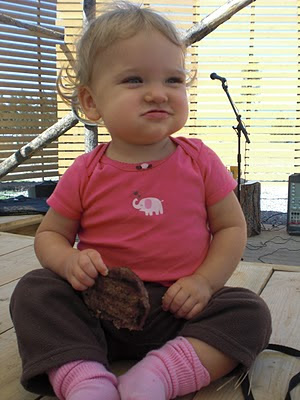 I keep thinking she can't possibly get any cuter, and
then she goes and strikes a pose like this!
The coolest part of the day was seeing how many people came out to support our local Humane Society. If I remember correctly $15k was raised on Sunday. Wow. Missoulians love their animals, so I am not surprised. But still, pretty awesome.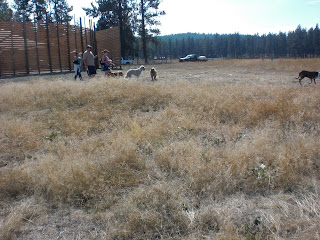 This was the perfect way to spend our Sunday. We needed a day away from the same old toys, same old living room, same old high chair. And you know what? No more excuses not to keep doing stuff like this. It wasn't dreadful getting out of the house, it just took a little forethought.
We rounded out our perfect afternoon with a perfect evening. Leftover pumpkin soup, my friend Jenny and her daughter Chloe and red wine. Our girls played, we sipped wine and we tried to avoid the fact that Monday was staring us straight in the face.

I went to bed Sunday night with a full heart, a full belly and with dreams of our next adventures. No more sitting at home, no more excuses. Life is so much fuller when you fill it. And filled it we did this weekend. To the brim.