I want to give a quick shout out of this amazing website
Philanthroper
. This site features a different non-profit organization each day and you have the option to donate between $1 and $10 to the featured organization. Their tag line is "A little helps a lot" and the idea behind this site is that if lots of people give just $1 it adds up! And its true! They keep a tally of how much is given to each organization and some days it tips the scales at $1,000! The cool part about this is you can make a difference in someone's life for just $1. With the economy in the tank these days, Philanthroper makes it easy and affordable to still make a difference in people's lives without making a dent in our own.
Here's a little blurb from their website:
"You know those daily deal sites? We're another one of those. But instead of selling something, we're sharing the story of a new 501(c)3 nonprofit every day. And if you'd like, you can give them $1. We're trying to make doing good a habit."
The reason I decided to spread the word here is that there's a non-profit featured today that delivers groceries to seniors in need. As a food lover and blogger my life revolves around food,
great
food, every day. I have
never ever
even one day in my life been without access to food. Every single time I cook I am thankful for the bounty and blessing of food given to me and I try to never take it for granted. Without question, when a food related non-profit appears, I give. And sometimes I give again. And again. Please consider checking out
Philanthroper
and seeing how you can make a difference.
**A quick disclosure: I have no affiliation or ties to Philanthroper. I just happen to think they are an amazing organization making a difference in people's lives every day and wanted to spread their goodness around.**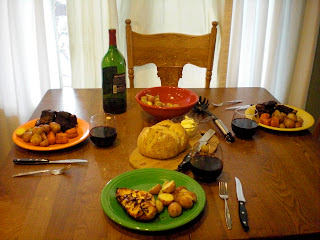 Our blessed table!
PS Another shout out, to my bestest, silliest, cutest, awesomest half...Happy Birthday to you my darling husband Mace! I love you with all my heart!