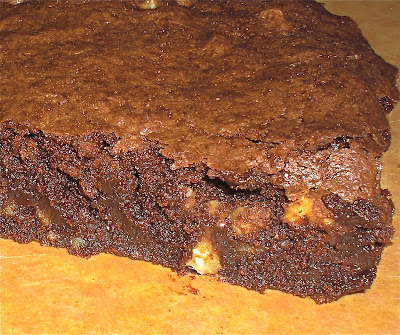 I made these brownies the first time for my friend Kate's birthday and have made them several times since. This is my go-to recipe for brownies now 1. because they are the most amazing brownies I have ever tasted in my whole entire life, hands down, no question about it, and 2. because they take about 15 minutes to throw together but taste like I must have slaved away for at least double that.
Maybe I have never told you this about myself, but I am utterly and hopelessly in love with brown butter. Brown butter will make anything taste better. It adds a depth to food that can only be replicated by, well, more brown butter. It is also a very sneaky-sneaky ingredient because people can often taste that there is something unique in what they're tasting, but can never pin point it. That's because most people have never even heard of brown butter. I make
a lot
of things with brown butter in them and when I giddily reveal my "secret" ingredient, I am often met with a blank stare. Dang. But, then I get to educate people on the wonders and awe of brown butter and that makes me happy. Everyone needs a bit of brown butter in their lives, and especially the tummy part of their lives.
I hope you enjoy these as much as I do. I don't know what else to tell you about them, except that you should go make them. So, go! Go make them! Then eat 'em and enjoy!
Brown Butter Brownies




Ingredients
10 tbsp (1 1/4 sticks) unsalted butter, cut into small pieces
1 1/4 cups sugar
3/4 cup unsweetened cocoa powder (not
dutch process)
1 tsp
vanilla extract
1/3
cup +
1 tbsp unbleached all purpose flour
1
cup nuts
, chopped and toasted (My personal favorite is pecans, but walnuts are almost as amazing)
Directions
Preheat oven to 325°F.
Grease and then line an 8x8 baking dish with parchment paper, press paper firmly against pan sides and leave a 2-inch overhang.
Melt the butter in medium saucepan over medium-high heat. Continue cooking until butter stops foaming and browned bits form at bottom of pan, stirring often, about 5-8 minutes. Remove from heat and add sugar, cocoa, 2 teaspoons water, vanilla, and salt and stir to blend. Let cool 5 minutes and then add eggs to hot mixture 1 at a time, beating quickly to blend after each addition. When mixture looks thick and shiny, add flour and stir until blended and then beat vigorously for one minute. Stir in nuts and transfer batter to prepared pan.
Bake brownies until toothpick inserted into center comes out almost clean (with a few moist crumbs attached), about 25 minutes. Cool in pan on rack. Use parchment paper overhang to lift the brownies from the pan. Cut brownies into squares and...
Eat it!