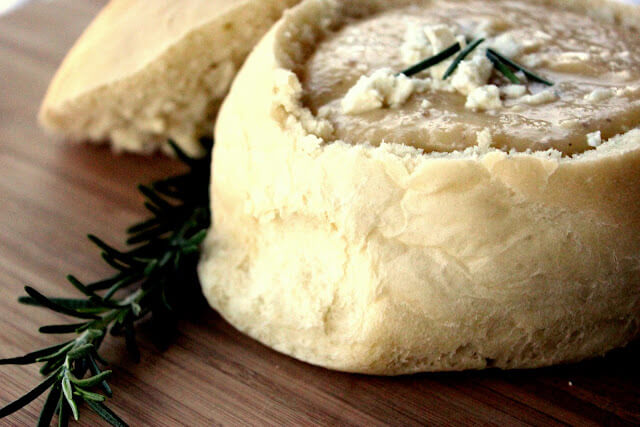 Let's have a conversation about comfort food. You know, the food you go to when its cold and blustery and the winter blues have settled themselves firmly on your mood for a good long visit. Oh, those blues have set in here, and with it, a whopping two feet of snow. And a hankering for some good old comfort food.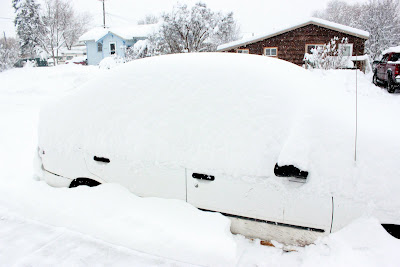 I have lots of comfort foods, but I think I can easily say that cheese, bread and potatoes are always at the center of my cravings. I'll be honest, potatoes are at the heart of every craving I have. But, if you add bread and cheese to the mix I will whoop and holler and whatever drove me to needing that comfort food in the first place will be fast forgotten.
So, when the snow set in that closed schools in Montana for two days, I turned to the kitchen. Where else would I turn when its a billion degrees below zero and driving anywhere would be certain death? Okay okay, maybe I am being dramatic. The snow was cozy, but it was also the perfect excuse to get my comfort food groove on. That brings me to this: cheesy rosemary potato soup. In bread bowls. Mmm hmm....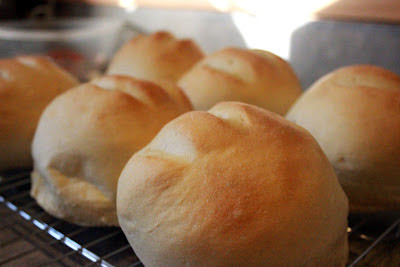 **Even though I swore this wouldn't happen, I almost always mix and knead my bread dough in my KitchenAid mixer (unless I'm angry and need to knead out some anger). Any of my bread recipes can just as easily be kneaded by hand without a stand mixer**
PRINT THESE RECIPES!!
Bread Bowls
Adapted from
Mel's Kitchen Cafe
1 1/2 Tbsp active dry yeast
1/2 tsp sugar
2 1/2 cups warm water (105-110 degrees)
2 teaspoons kosher salt
2 Tbsp canola oil
7 cups all-purpose flour
Dissolve yeast & sugar in warm water in the bowl of a stand mixer fitted with a dough hook. Allow to sit 10 minutes or until bubbly. Add salt, oil and 4 cups of flour. Knead on medium speed, adding the 3 remaining cups of flour as necessary, until a smooth elastic dough has formed.
Put the dough in a well-oiled bowl and lightly coat the top of the dough with oil. Cover with plastic wrap and allow to rise in a warm place for 45 minutes, or until doubled in size.
Preheat oven to 400F. Punch down dough. Cut dough into 8 equal portions and shape into balls. Place on a parchment lined baking sheet, cover with plastic wrap, and allow to rise for 30 minutes or until doubled in size. Bake for 15-18 minutes or until browned on the top. Move to a wire cooking rack and allow to cool completely.
To make bowls, just before serving, using a serrated knife cut inward at an angle around the top of the bread. Pull the top off and then scoop the middle of the bread out (go ahead and eat this bread, you don't need it for the bowls). Ladle soup into bowls and...Eat it!!
Rosemary Potato Soup
Adapted from
Two Peas and Their Pod
1 Tbsp olive oil
1 cup onion, chopped
3 garlic cloves, minced
2 pounds russet potatoes
4 cups vegetable broth
3 Tbsp unsalted butter
3 Tbsp flour
1 1/2 cups whole milk
6 oz feta cheese, crumbled, plus extra for garnish
1 tbsp chopped fresh rosemary, plus extra for garnish
Salt and pepper to taste
Heat olive oil in a large stockpot over medium heat. Add onion and garlic and saute for 5 minutes, or until onion is tender. Add potatoes and broth and bring to a boil. Simmer for 20 minutes or until potatoes are tender when pierced with a fork. Remove 2 cups of the potatoes from the pot (using a slotted spoon or small mesh strainer) and set aside. Puree the remaining potato mixture with an immersion blender or food processor.
In a small sauce pan, melt butter over medium heat and then add flour. Cook for 3-4 minutes or until browned. Add milk to flour mixture, whisking constantly, and heat until thick and just boiling.
Slowly add the milk to the potato mixture and bring to a boil. Add reserved potatoes and then remove from heat. Stir in feta, rosemary, salt and pepper.
Ladle soup into bread bowls, top with feta and rosemary and...
Eat it!!