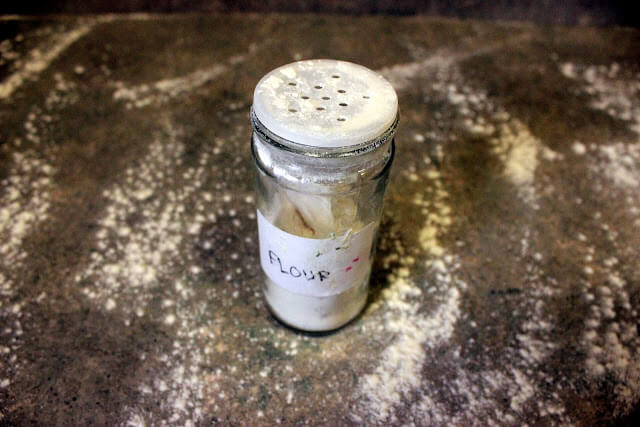 This lil guy? He rocks my world. He used to be an empty container with a sifter lid that I picked up at our local health food store. He cost a whopping 99 cents. I picked him up in the bulk spice aisle, so he was most certainly destined to be filled with something exotic like garam masala. But I altered his destiny...I filled him flour and I use him lovingly almost every day. How many spice jars can compete with that?
I was tired of the constant mess I dealt with because of dusting the counters when working with dough. So, when I saw something similar to this somewhere
on-line, I knew I had to make my own. Its a game changer.
I always keep this on my counter so I can quickly grab it and dust flour to and fro! It sprinkles a light dusting of flour evenly and quickly. It's always within arm's reach. It means no more plunging my sticky, doughy hands into a bowl of flour and then having to throw the leftover flour out. It is so purposeful.
I use it to dust the counter when laying out pasta, to dust the top of my pie crusts as I roll them out, and I even use it when I'm kneading bread.
You know you want one. You know you deserve it. So now, go out and get yourself a cute little spice jar with a sifter top and dust away! It'll be the best 99 cents you've ever spent.