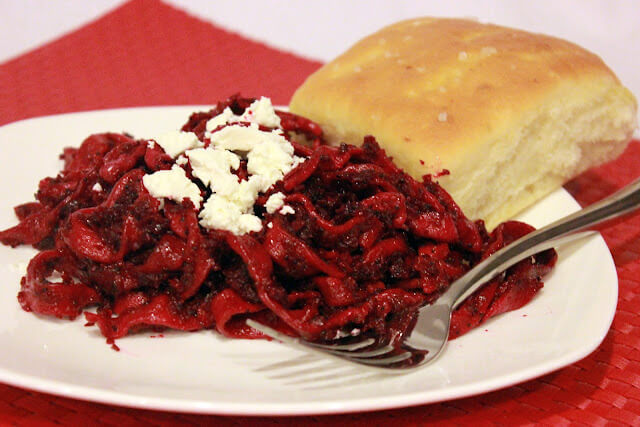 I originally found this recipe when I was conjuring up new ideas for the plethora of beets we got in our CSA. CSAs are awesome, but at certain times throughout the season they inundate participants with more of one vegetable than any family could possibly eat. Beets were one of these things.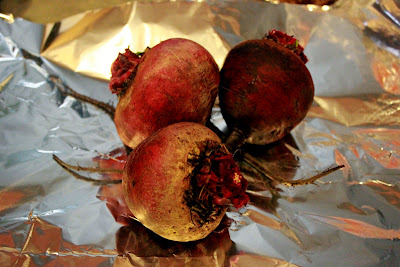 This meal has quickly become a favorite in our household. I've even seen self-proclaimed beet haters take a liking to this pasta. It says a lot about this dish. Although, as we all know , a little brown butter makes everything taste better (and we all know this, right? If you don't, you should hop up on my little bandwagon). Once the beets are roasted, this dish is very quick to put together. Seconds. Okay, I lie. Naughty! But it doesn't take long.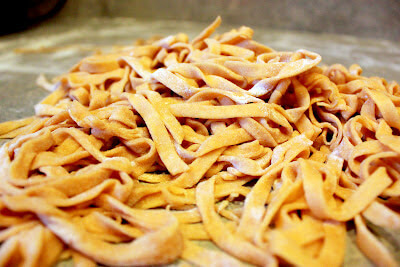 This dish is beautiful...brilliantly red from the beets and topped with crumbled goat cheese. Its a Valentine on a plate. Can't you just see the look on your sweetie's face when they walk in the door on Valentine's Day and see this for dinner? Pure love.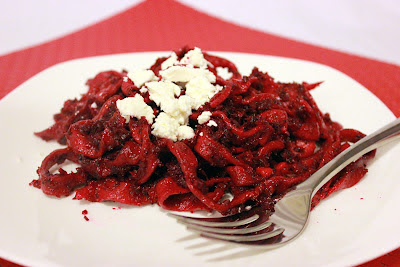 PRINT THIS RECIPE!
Roasted Beet & Brown Butter Pasta
Adapted from
Epicurious
Makes 4 generous servings
1 pound red beets, scrubbed and greens removed
1 pound fresh fettuccine (I made my own from
this recipe
, but store-bought would work too)
6 Tbsp unsalted butter
1 Tbsp poppy seeds, heaping
1 tsp kosher salt
1/4 cup reserved pasta water
4 oz goat cheese
Preheat oven to 400F. Wrap the beets in tin foil and place on a baking sheet. Bake for 1 hour 15 minutes, or until the beets are tender when pierced with a fork. Set aside to cool.
Once the beets have cooled, rub the skin off and roughly chop. Place beets in a food processor and pulse until very finely chopped.
Fill a large pot with water and bring to a boil for the pasta. When the water boils, add the pasta and cook for 3-5 minutes or until cooked through. Drain the pasta reserving 1/4 cup of the pasta water for the sauce.
Meanwhile, add butter to a large skillet on medium-high heat. When the butter has melted and is starting to brown add the poppy seeds. Continue cooking until the butter is a deep golden brown color. Once this happens, quickly add the pureed beets, reserved pasta water and salt, stirring to combine. Add the cooked pasta to the skillet and cook until heated through and the sauce covers the pasta uniformly.
Serve topped with crumbled goat cheese and then...
EAT IT!