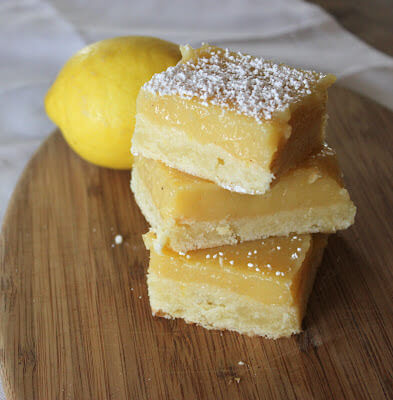 If you know anything about my culinary passions, you know:
1. That I believe a little brown butter can make anything taste better.
2. Lemon desserts do not pass these lips.
3. Ever.
4. Never Ever.
5. Unless...(see #1 above).
I heard your collective gasp, and I understand your confusion. But let me help you understand, its pretty easy. A little brown butter can make anything taste better. Or even good.
I don't know what it is about me and lemons, but we just don't dig each other when it comes to desserts. I 'll add lemon to risottos, pastas, roasted vegetables and dips. But please, keep that fruit away from my sweets. Except for this one time.
Here's the deal, I am not going to say I love these lemon bars and they are my new favorite dessert. But, they were pretty good. I ate a whole bar and I didn't even cry when I remembered I wasn't going to hit any chocolate.
So, why, you ask, would I choose to make something I am so obviously at odds with in the first place? I made them for this lady. My mama.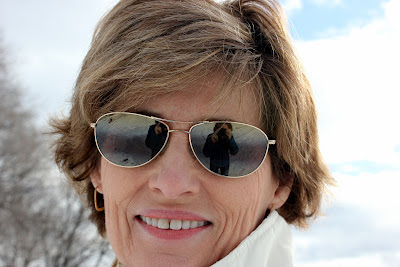 She and my dad were here visiting this past weekend and since her birthday was just a few days prior I had to make her something extra special. Lemon bars were that thing. More on that awesome visit to come, but now, without further ado...I present to you:
BROWN BUTTER LEMON BARS!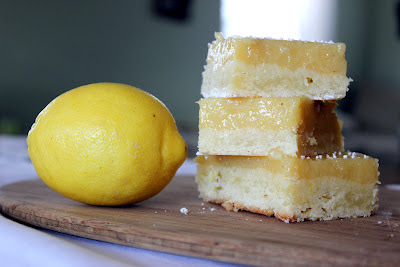 PRINT THIS RECIPE!
Brown Butter Lemon Bars
Adapted from
Baking
by James Peterson
16 servings
DOUGH
2/3 cup (94 grams) all-purpose flour
2/3 cup (94 grams) cake or pastry flour
1/2 cup powdered sugar
1/4 teaspoon kosher salt
1/2 cup cold unsalted butter, cut into 1/2" cubes
1 egg
LEMON CURD
1/2 cup unsalted butter
3 large eggs
3/4 cup granulated sugar
1 tablespoon lemon zest
3/4 cup fresh lemon juice (about 6 lemons)
Make the dough: combine the flours, powdered sugar and salt in a food processor and pulse until combined, about 5 pulses. Add the butter and egg and process for 20-30 seconds or until the mixture just comes together. Flatten into a disk shape, wrap in plastic wrap and refrigerate for at least 15 minutes.
In a medium saucepan, melt the butter on medium heat until light brown and the butter has a nutty fragrance. Watch the butter carefully and remove from the heat as soon as it browns to avoid burning. Set aside to cool for 10 minutes.
Preheat the oven to 450F.
Make the lemon curd: Bring a saucepan of shallow water to a simmer. In a heatproof bowl that will fit over the saucepan, add eggs and sugar and whisk for 2 minutes until the mixture is pale yellow. Whisk in lemon zest, juice and brown butter and then set the bowl over the simmering water. Whisk constantly for 8-10 minutes until the mixture starts to thicken. Remove from the heat and cover with plastic wrap. Press the plastic wrap onto the surface of the curd to avoid forming a skin. Set the lemon curd aside.
Roll the dough out into a 9" x 9" square and then press the dough into an 8"x8" baking dish. Press the extra inch of dough up the sides and then trim any excess dough to form an even crust all the way around. Bake for 20-25 minutes, or until the crust is light golden brown. Let the crust cool for 15 minutes on a wire baking rack.
Spread the warm lemon curd over the warm pastry and let cool for 30 minutes at room temperature. Cover and refrigerate for at least two hours and up to one week, before serving.
Cut into squares and...
Eat it!!