I am a winner! Literally. January has been a very lucky month for me. I won TWO giveaways from fellow bloggers and I couldn't be happier with my loot!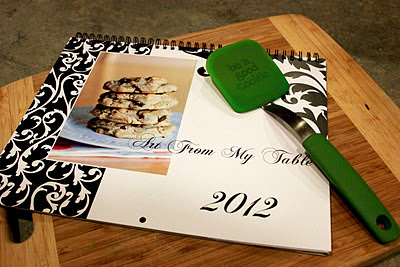 I won this gorgeous calender from Chellie at
Art From My Table.
It is a calendar with her beautiful photos and also a new recipe each month. It tickles me to know that one of my fellow bloggers will be hangin' (literally) in my kitchen with me all year long while I am cooking. Go check her blog out...she's got great recipes and a beautiful outlook on life.
Secondly I won this cute
be a good cookie
spatula from Janet at
Food Beautiful
. OXO sent this to her and is part of their Cookies for Kids' Cancer program that fights pediatric cancer through local bake sales. This year OXO will donate up to $100,000 to support research for new therapies. Now, if that's not a worthy cause, I don't know what is. Great giveaway Janet, and a great way to raise awareness for this great cause. Another cool thing about Janet is that she was my "cookie fairy" during the
Great Food Blogger Cookie Swap
this past December. Someone dropped out so she baked an extra batch of cookies just for me! So, I know first hand just how fabulous her baking is!
And last but not least...I WON AN AWARD!! Anna over at
Crunchy Creamy Sweet
gave me the Liebster Award! Anna is one of the sweetest most darling bloggers I have the pleasure of knowing (and I really love her name!). I am honored that she picked me. Thank you, you wonderful woman! Go check out her blog, she's got great recipes and is so much fun to read. Plus, she leaves me the sweetest comments that always make my day.

I am so excited I am grinning from ear to ear! This is awarded by fellow bloggers to recognize up and coming blogs. I am up-and-coming? Hooray! Let's keep scurrying down that path together, shall we?
**Update! I was awarded the Liebster again by the lovely Amalia over at
Cake to Crumb
! Amalia has great recipes, is very creative and I would love to pick all her creations off the page and eat them immediately. I am so honored to be picked by two wonderful bloggers for this award. My day has been made again. Thanks Amalia!!**
So, now it is my honor to award the Liebster to five of my favorite up and coming bloggers. Lucky me! These ladies are all fabulous bloggers, recipe creators and chefs. I am honored to pass this award on to them.
Leanne at
Around the Table: Loving Food in RI and Beyond...
Missy at
Cooking for Two
Aimee at
Bargain Bites
Mama F at
Doggie at the Dinner Table
Amy at
Oh, Bite It!
Okay, now its your turn ladies! I can't wait to see who you pass this award on to!!