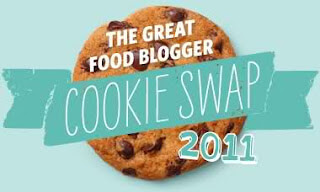 Goodness!! This swap was so much fun to participate in!! The 1st annual
Great Food Blogger Cookie Swap
was hosted by Lindsay of
Love and Olive Oil
and Julie of
The Little Kitchen
. Their Facebook Page said they had 625 participants. Wow.
The premise of this swap was easy. Each person makes 3 dozen cookies and sends them to the three other bloggers that were assigned to them. In exchange each person receives 3 dozen cookies from three other bloggers. What a great way to unite bloggers around the world! Everyday we get to see the creations our fellow bloggers make, and salivating, wish we could pick that food off the computer screen and eat it. This swap made blogging come alive. Blogging in tangible, edible form. We get to taste each others creations. Wow.
All the cookies I received were unbelievable. They were also all cookies that I had never made myself and I am so excited to get my hands on the recipes. Beautiful gorgeous absolutely delicious cookies!!!
The day I received my first package from Shari at
My Judy the Foodie,
I was so stoked. Because, who doesn't like to having cookies delivered right to their door? These cookies were sugar cookie-like with
thick
chocolate frosting on the top. Divinity in a cookie.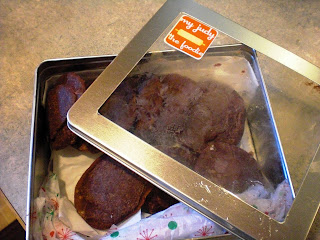 My second cookies to arrive were these babies sent by
Meghan of Stir and Scribble
. They were out of this world. Chocolate sandwich cookies with peppermint cream. I wanted to scream they were so good.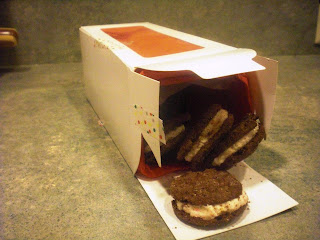 I met the FedEx man at the door Friday morning to get my third box from Janet of
Food Beautiful.
I ripped into them within seconds of closing the door and found double espresso chocolate cookies. Janet, do you know how much I love espresso? How chocolate and coffee are maybe one of my favorite combos in the whole wide world? These were unreal.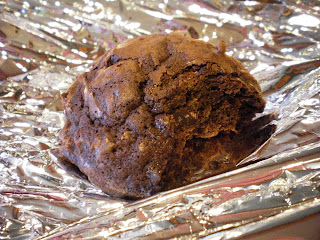 I kinda feel spoiled rotten.
So, are you curious what I sent out the door? Cardamom Butter Cookies. Yes, Cardamom. With espresso and chocolate drizzles. These were the most delightful cookie I have ever had the pleasure of baking. I had so much fun! And knowing that three fellow bloggers I have never met were going to be eating them made this process even better. These cookies were filled to the brim with joy and love from me.
I will be honest, it was a little stressful finding the
perfect
cookie to send my fellow blogger friends. I mean, that's what we
do
...what if they aren't good enough? Especially since I got one of my very favorite bloggers
Scarletta Bakes
as one of my recipients! This was intimidating, but exciting. I was up for the challenge. Then I came across this recipe and my fears were no more.
I'm not gonna, lie...these cookies are time consuming. But, they are worth every minute of your time. They will impress people with their complex mix of spices and flavors. Plus they're so pretty! You can't go wrong.
I hope my recipients love eating them as much as I loved making them.
Happy Holidays everyone!
Cardamom Butter Cookies with Chocolate & Espresso Drizzles
Adapted from
Gourmet
Makes about 4 dozen
PRINT THIS RECIPE!!
Cookies
3 (420 grams) cups all-purpose flour
1 teaspoon baking powder
3/4 teaspoon salt
1 1/2 teaspoons ground cardamom
1/2 teaspoon ground cinnamon
1/4 teaspoon ground allspice
2 sticks (1 cup) unsalted butter, softened
1 1/4 cups granulated sugar
2 large eggs
1 teaspoon vanilla
Espresso and Chocolate Drizzles
1 teaspoon instant-espresso powder
1 teaspoon vanilla
1 1/2 to 2 tablespoons milk
1 cup (110 grams) powdered sugar
3 oz fine-quality bittersweet chocolate, melted

To make the cookies, whisk together flour and next 5 ingredients (through allspice) in a bowl. Set aside.
Beat butter and sugar in the bowl of a stand mixer at medium-high speed until fluffy, about 2 minutes. Beat in eggs and vanilla. Reduce to low speed and add flour mixture until just combined.
Form dough into 2 (12-inch) logs, about 1 1/2 inches in diameter, on their own sheet of plastic wrap. Use the plastic wrap and your hands to help guide the dough and roll, press, and square off sides of logs. Chill logs in refrigerator on a baking sheet until slightly firm, about 1 hour. Smooth logs with plastic wrap and a hard flat sided object (I used a cookbook) to square off the cookie. Chill logs on baking sheet until firm, about 1 hour (or up to 5 days).
Adjust racks to the upper and lower thirds of the oven. Preheat oven to 350°F.
Cut dough into 1/4" thick slices from one log and place onto 2 large ungreased baking sheets, 1 inch apart. Rewrap remaining dough and put back in refrigerator.
Bake cookies, rotating halfway through, until edges are golden brown, 10 to 12 minutes total. Cool on sheets 3 minutes, then transfer to racks to cool completely. Repeat with remaining dough.
To make drizzles, whisk espresso powder, vanilla, and 1 1/2 tablespoons milk until espresso powder is dissolved. Add powdered sugar and enough additional milk to make a thick pourable icing. Spoon into a sealable plastic bag and snip off a very small (about 1/8") bottom corner, when ready to use.
Spoon melted chocolate into another plastic bag and snip off bottom corner, when ready to use.
Drizzle espresso icing and chocolate over each cookie with a back and forth motion. Allow drizzles to set on cookies until dry, about 2 hours and...
Eat it!!