If you know anything about me, you know that I am absolutely wild about pecan pie. I am pecan pie crazy. If I could only eat one food for the rest of my life, it would be pecan pie (ala mode of course, that still counts as one food, right?). You know who else is a maniac for pecan pie? My dad. I am pretty sure its genetic. If there is pecan pie in the house it will be devoured. By me and him. Immediately.
So, what's this pecan
tart
business all about then? Well, here's the deal, it has "brown butter" in the title. Brown butter is my very favorite ingredient in the whole entire world. Pecan pie and brown butter wrapped in one beautiful little package? Gimme!
This tart is hands down the best dessert I've ever tasted in my whole entire life. Even people that claim they hate pecan pie like this tart. It is the perfect balance between sweet and salty; and also the perfect balance of amazing and amazing. This tart graces my table at every holiday, and this was one of the three pies I made for our
Thanksgiving feast
last week, of course.
The crust is easy peasy. Flour, brown sugar, salt and brown butter are mixed up with a fork and pressed into the tart pan with your fingers. No crust to make, chill, roll out, patch, swear at, make again...just a little pat, pat here and there and its done!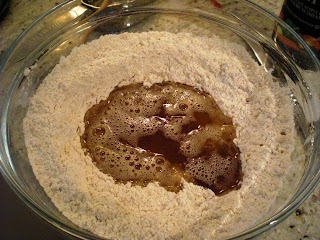 The filling is quick and can be made while the crust bakes and then poured directly into the shell, which goes directly into the oven and then goes directly into my tummy.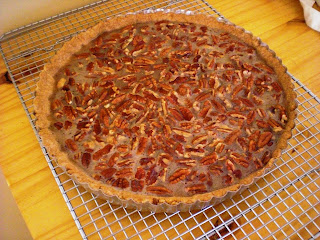 You're gonna love this. Enjoy!
Adapted from Bon Appetit
Serves 12
Crust
3/4 cup unsalted butter
1 1/4 cups all purpose flour
1/4 cup light brown sugar, packed
1/2 teaspoon salt
Filling
1 large egg
1/2 cup light brown sugar, packed
1/2 cup agave syrup
1/4 cup heavy whipping cream
1/4 teaspoon salt
1 cup pecans, toasted, coarsely chopped and cooled
To make the crust: cook butter in heavy small saucepan over medium-high heat until butter is a deep golden brown, about 8 minutes. Watch the butter carefully to make sure it doesn't burn, it can turn on you fast! Remove from heat. Pour melted brown butter into a glass measuring cup and let stand at room temperature until luke warm.
Preheat oven to 375F. Whisk the flour, brown sugar, and salt in medium bowl. Add 1/2 cup of the brown butter and mix with a fork until a dough that resembles wet sand forms. Transfer dough to a 9 inch round tart pan with a removable bottom. Using your fingers, press dough evenly onto bottom and sides of the tart pan. Bake crust until it begins to brown, 15 to 18 minutes.
To make the filling: whisk egg and brown sugar in a medium bowl until well blended. Whisk in agave syrup, whipping cream, and salt. Stir in the remaining 1/4 cup brown butter, leaving most of the dark solids in behind. Stir in pecans and then pour filling into the baked pie crust, shaking gently to distribute the pecans.
Bake the tart until the center is almost set (the center will jiggle very slightly), about 25 minutes. Cool on a wire rack and..
Eat it!