Tomatoes you say? In December? Pssht. Tomatoes can't be good in December. Not in Montana, nope!
Au contraire! These tomatoes were almost as sweet and juicy and ripe as a July tom. They were close enough to perfect. As I was wandering around the grocery store today, conjuring up an appetizer to make for tonight's white elephant party (sans child, which is very dangerous for my bank account), I came across these tomatoes. They were ripe and red and round. They were grown in Montana. They...wait, what?!?! They were grown in Montana? In December? Pssht. What ev.
No really, they were. If you are lucky enough to find locally grown tomatoes in the middle of winter, for God's sake,
BUY THEM
!! They're greenhouse tomatoes, most likely, but they are going to be far superior to any tomatoes you buy that travel from Mexico or some other far off place. Typically, tomatoes that one can find in the winter are grown in a land far far away, picked before they are ripe and will never ever reach their full potential. I rarely even bother with tomatoes in the winter time unless they are canned.
Soooooo....since I found these far superior tomatoes I knew at that moment exactly what I would make tonight. They're my go-to appetizer in the summer. They bring me back to Italy where my husband and I ordered caprese salad with every meal just because it was
that good
. Its almost impossible to beat. This is caprese salad all wrapped up in one big bite, and while it looks all fancy-pants like, its actually quite easy to make.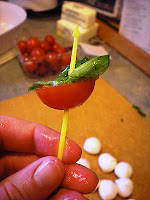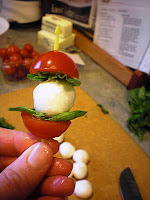 Its as easy as 1...2...3! Then a little drizzle of olive oil and balsamic vinegar and you've got party food!
Caprese Bites
1 pint cherry, grape or cocktail tomatoes
8 oz mozzarella (if you can find it in small ball form buy these)
1 bunch of basil
Oilve oil and balsamic vinegar for drizzling
Toothpicks or small skewers
Cut tomatoes in half crosswise.
Cut the mozzarella in pieces about the area of the halved tomatoes, or in half if you are using mozzarella balls.
Cut the basil into squares approximately the area of the halved tomatoes and mozzarella (this is an art, not a science so no need to measure or be exact).
Taking one toothpick at a time, pierce one tomato half, one basil square, one mozzarella piece, one more basil square and the other tomato half (in that order) and set aside. Repeat with remaining tomatoes, basil and mozzarella.
Arrange bites on a platter and drizzle with oilive oil and balsamic vinegar and...
Eat it!