I know, with all my heart, how lucky I am to have three sisters. These three ladies make my heart peaceful, they make me laugh so hard it comes out silent and ends with tear-streaked cheeks. We hold each other up, cheer each other on, love with all our might.
I got to see my itty-bitty-teeny-tiniest (okay, she's the youngest) sister, Tessa, this past weekend and my heart is so full. I feel so
at home
with her, so content and happy and so
me
. She seriously brings out all the good parts of me. She is such a beautiful creature from the inside out. Man, I wish we lived closer.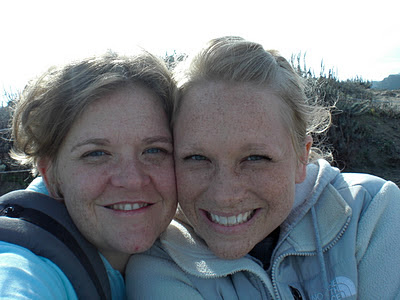 Tessa lives in San Francisco with her super awesome hubby bubby, Charlie, and their undeniably cute and witty dog Kayla.
I had never been to San Fran and was super excited to do some city crawling. We visited the beach where we let Kayla run wildly after a tennis ball, and let Anna eat her yearly quota of sand while she spied on the Golden Gate Bridge.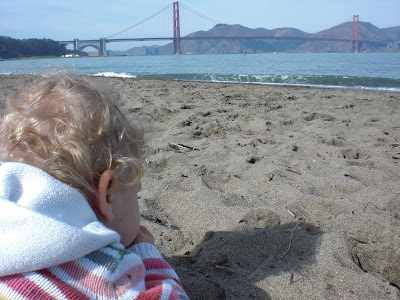 We rode the BART downtown and ended up in a building that was my wildest fantasy (yeah, I have
really
exciting fantasies). The
Ferry Building
was an unbelievable marketplace full of specialty food stores.
SPECIALTY FOOD STORES
! As in, a whole building full of stores that do not exist in or anywhere near Missoula, MT and I might move to San Francisco based on this building alone. Cheese, chocolate, a whole store dedicated to
mushrooms
, jams, herbs, wine, olive oil, aaahhhhhh!! I went totally crazy imagining the dishes I could create with this resource at my fingertips. And, I tried my very first macaron in this building. I know, I know, how could I never have had a macaron? But, I haven't. I fell madly in love at first bite. Oh, pistachio macaron, how I love thee! Now I'm on a mission to learn how to bake thee.
Anna also showed us what Swiper has taught her and had her first shoplifting experience: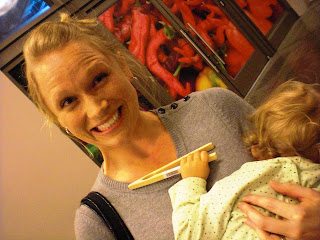 Anna fell asleep while Tessa was carrying her around Sur La Table.
About 10 minutes after we left the store we noticed she had this
little treasure in her paw. Don't worry we took it back.
Our cousin Laura lives in the Bay Area and has a son that's a month older than Anna. We went to their house for a delicious lunch and I finally got to meet her little guy. It was so awesome seeing them and wish we could do it more often!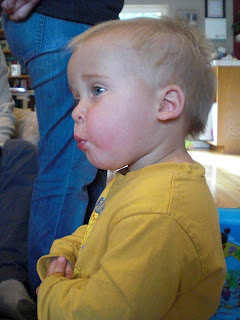 Charlie is an amazing cook and I got spoiled rotten on this trip. I didn't have to lift one single finger and had food delivered directly to my face on a daily basis. What a treat!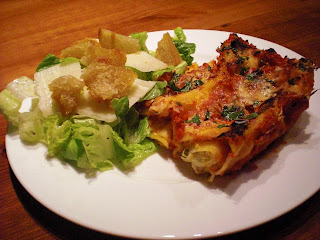 Manicotti w/homemade ricotta & caesar salad w/homemade croutons
And my personal favorite, a light and delicious lunch: brie, apple butter and arugula sandwiches. I picked Charlie's brain during the entire meal to make sure I could replicate this at home (and share the recipe with you). And guess what? The apple butter was homemade too. I am really glad my sister married this guy.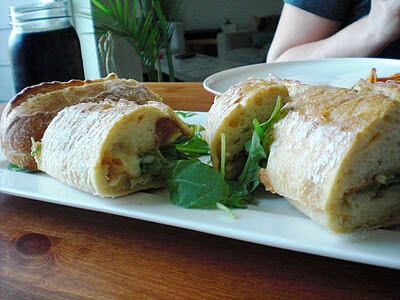 What's your favorite meal that someone else has cooked for you? I know, those of us that love to cook sometimes have a hard time letting go and allowing someone else to cook for us. But, when we do, it can open up our eyes to new flavor combinations and recipes like the one below.
I am going to be very vague on amounts in this recipe because it really depends on your tastes and how much of each ingredient to put on. So, just go with your gut, follow your tastebuds and then enjoy it!
Brie, Apple Butter & Arugula Sandwiches
Created by: Charlie
1 sturdy baguette (like sourdough)
Apple Butter
Brie
Arugula
Preheat oven to 350F. Cut baguette horizontally, but do no cut all the way through so that the sandwich is "hinged". Slather generous amounts of apple butter onto both halves of the sandwich. Layer brie on top and put it in the oven for about 10 minutes, or until the cheese is melted.
Remove from oven. Add arugula on top of the cheese and then "close" the baguette and slice into individual sandwich sized portions.
Eat it!