GNIPL - /nip-pull/ - acronym for: Girls Night In Pot Luck;
definition
1
. a Saturday night when awesome women descend upon a home, scrumptious food in hand to eat their faces off
2
. a Saturday night when women descend upon a home and drink wine, talk, dance and laugh their asses off.
This was my Saturday night...GNIPL (acronym coined by my friend Kate). There is something about girlfriends that can turn your heart and head around in an instant. I was having a rough weekend, missing my husband something fierce and feeling rammy and cooped up in the house because of the rain. I felt whole and renewed at the end of the night, albeit tired after calling it a night much later than I am used to.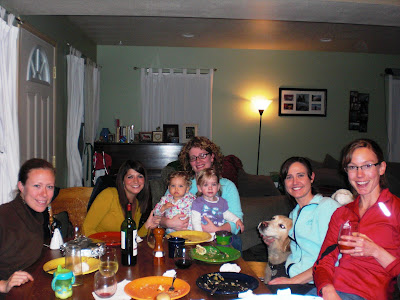 I am positive that most of the problems in this world could be solved if people sat around and ate amazing food, sipped wine and topped off their night with a decadent dessert...and of course lots of laughter.
Crispy Kale & Tofu, Falafel, Pumpkin Hummus & Homemade Applesauce
Mmm, mm, mm...lucky me for having such awesome girlfriends/cooks in my life. We ate until there was little chance of fitting anything else into our tummies; and then we ate dessert.
The next day I found myself staring at an enormous bowl of chickpeas, since I had soaked too many from the
falafel
I made for GNIPL. Hmm...what could I do with these? Well, heck, why not make a chocolate chip cookie pie?
Mind you, this was not my idea, but a brilliant idea nonetheless. I found the recipe
here
on Chocolate Covered Katie's blog.
You will not believe how good this tastes until you try it yourself.
I brought it into work today and didn't tell a soul what was in it. It got rave reviews from all...then a bunch of dirty looks when I fessed up. But...then more raving. So go ahead and make. Its "healthy" chocolate chip cookie pie, but so good you'll never miss the flour, butter or eggs. Go ahead and try it! I
double
triple dog dare you!
Vegan Chocolate Chip Cookie Pie
Ingredients
2 cans (500 grams) chickpeas, drained and rinsed
1/4 cup applesauce (I used sweetened, and then reduced sugar from original recipe)
2 tsp pure vanilla extract
1 and 1/4 cups brown sugar
Directions
Preheat oven to 350. Put all ingredients except chocolate chips in a food processor and blend until very well mixed . Stir in chocolate chips and pour into an oiled springform pan. Bake for 35 minutes or until well set and pie pulls slightly away from the edge of pan. Let cool 10 minutes on wire rack and then remove from pan.
Eat it!