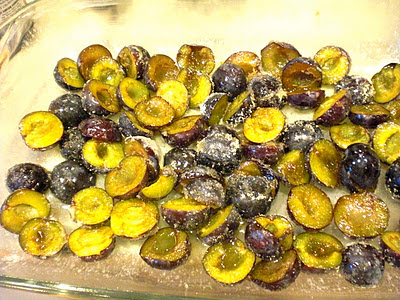 I know...my photography skills are in serious need of a lesson, and also a good camera. I am working on it. But, I can't help but blog away anyway, and you'll just have to suffer through these hideous pictures to get to the good stuff. I say this because this dessert was ugly. And the camera just made it uglier. Nothing makes me crazier than trying a new recipe and having it come out of the oven looking like garbage. But, as we are all taught as little peeps: don't judge a book by its cover. I am so glad I wasn't Judgy McJudgerson that day, and instead just looking for a quick way to use up a ton of fresh plums given to me from a friend's tree (thanks Jen).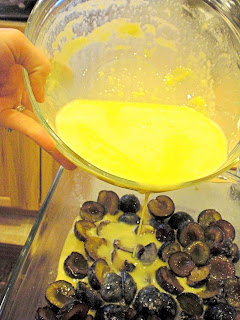 This dessert was soooooooo good. Like make your head dizzy good. And (I know I say this a lot) but it was super quick and easy to make. Besides the annoying job of pitting the plums, it took about 10 minutes to throw together and into the oven.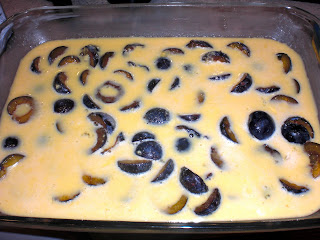 I got this recipe from my newest favorite cookbook flour by Joanne Chang. This cookbook was recommended to me by an old friend that I reconnected with on Facebook. We both have a crazy passion for baking and I believe we both daydream about sugar, flour and butter all day long. Thanks Katie for helping me to find yet another fantastic cookbook to blow my money on!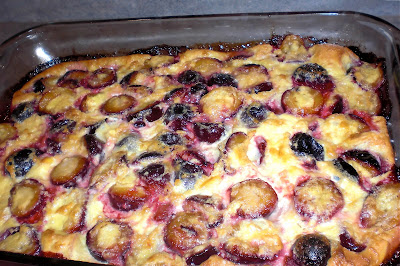 Plum Clafouti
Adapted from Flour by Joanne Change
Ingredients
1/4 cup unsalted butter, melted
5 cups small plums, pitted and cut in half
1/2 cup granulated sugar
4 eggs
1/2 cup all purpose flour
1/2 tsp kosher salt
1 cup whole milk
1 Tbsp pure vanilla extract
1/2 tsp almond extract
Powdered Sugar for dusting
Directions
Preheat oven to 400 degrees. Pour melted butter into a 9 x 13" baking dish and swirl to coat.
Toss plums with 1/4 cup of sugar and then spread evenly in the baking dish.
Whisk together the remaining 1/4 cup sugar, flour and salt. In a separate large bowl whisk together the eggs until combined and then whisk in the sugar and flour mixture. Once combined, whisk in milk, and vanilla and almond extracts. Pour the batter over the prepared plums.
Bake 40-45 minutes or until brown and puffy. Set on wire rack to cool for 30 minutes, then dust with powdered sugar and serve warm.
This really is best eaten the same day but...I admit it...I ate some for breakfast the next day (don't tell Anna!) and it was still divine.
Now, go get your eat on!