This bread is a staple in our household for just about any meal.
What should we have for dinner tonight? Chicken, broccoli and, oh, how about that focaccia bread? ,
What should we have for breakfast? Mmm...maybe we should make fried egg sandwiches on that focaccia bread!
Do we have anything to snack on? Ooo, that focaccia bread would be good toasted with a bit of cheese and avocado on top!
This bread is very versatile, but my absolute favorite is the garlic and rosemary with a sprinkling of sea salt on top. I have made this focaccia with kalamata olives and parmesan cheese, roasted garlic and sage and I have even turned this into a simple pizza topped with pesto, tomatoes and and mozzarella.
I'm posting this at request from my hubby who is literally sick to his poor little tummy from the very sub-par cafeteria food he's been eating for the past two months. He is going crazy for a taste of good food and home and has found someone on the Army base that has a functioning oven. Its still in hot debate whether he or I make this bread the best. The copious amount of olive oil he slathers onto the top of this probably negate any of the health benefits of the garlic (or the health benefits of a
reasonable
amount of olive oil), but ohhhhhhh is it amazing. Therefore, Mace, I am declaring you master of this bread! Go bake it for your classmates and show off your mad bread-making skills!
A side note: Most of the bread recipes I post I use a stand mixer fitted with a dough hook. But, any bread recipes can be done by kneading the dough by hand unless otherwise noted. If you knead your bread by hand you will want to approximately double the kneading time.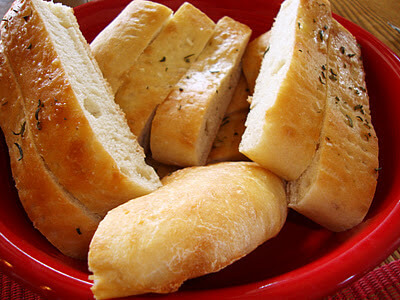 Photo courtesy of my sister Kellie
**This recipe was updated 12/27/11 after some very successful adaptations and also adding weight measurements. Trust me, it might be unbelievable, but its so much more delightful now!**
Garlic Rosemary Focaccia
PRINT THIS RECIPE!
Ingredients
1 Tbsp dry yeast
1 1/3 cups warm water (about 105 degrees)
1 Tbsp sugar
2 tsp kosher salt
3 T. Olive Oil
4 cups (560 grams) all-purpose flour
6 cloves finely chopped garlic (alter to your taste, we
love
garlic, but this amount might be overkill for some)
2 Tbsp finely chopped fresh rosemary (again, alter to your taste), plus more for sprinkling
Olive oil, for brushing
Sea salt, for sprinkling
Directions
Combine water, yeast and sugar in the bowl of a stand mixer fitted with a dough hook. Once the yeast has dissolved and looks foamy add salt, 3 tbsp olive oil, 3 cups (420 grams) flour, garlic and rosemary. Mix on low speed until combined and then increase to medium speed, adding up to 1 cup (140 grams) of flour as necessary, until dough is smooth and elastic, approximately 5 minutes.
Transfer dough to a well oiled bowl, oil the top of the dough and then cover with plastic wrap. Allow to rise approximately one hour, or until doubled in size, and the dough does not spring back when indented with your finger.
Remove dough from bowl and punch down to remove the air bubbles. Line a large baking sheet with parchment paper and roll the dough into a rectangle on the sheet. Cover and allow to rise 30 minutes.
Preheat oven to 425. Brush dough with olive oil, and sprinkle with sea salt and rosemary. Prick the dough with the tines of a fork all over, then bake for 15-20 minutes or until browned. Brush with more olive oil when it comes out of the oven and allow to cool for 10 minutes.
This is best eaten warm on the same day it is baked, but will last a couple days if you don't eat it all in one sitting. My preference for day old bread is to toast it.
Eat it!