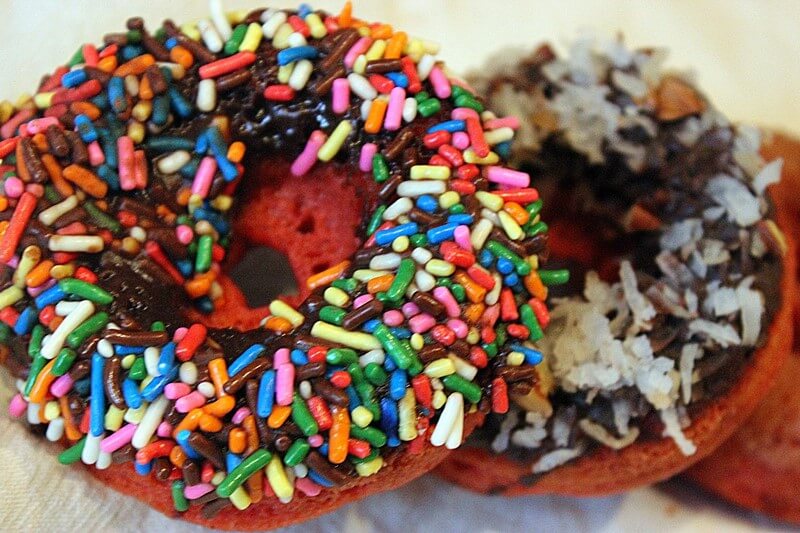 We started making donuts this summer and: We. Can't. Stop. They have brown butter. They are moist. They have a billion possibilities for flavors. The are delicious. They have brown butter.
Mace accidentally bought me a donut pan when he used my Amazon account to order something for himself. The donut pan was a splurge I'd been pondering buying and threw it in my cart. Mace figured since it was in my cart, it was a sure deal. Two days later I was the proud owner of this donut pan!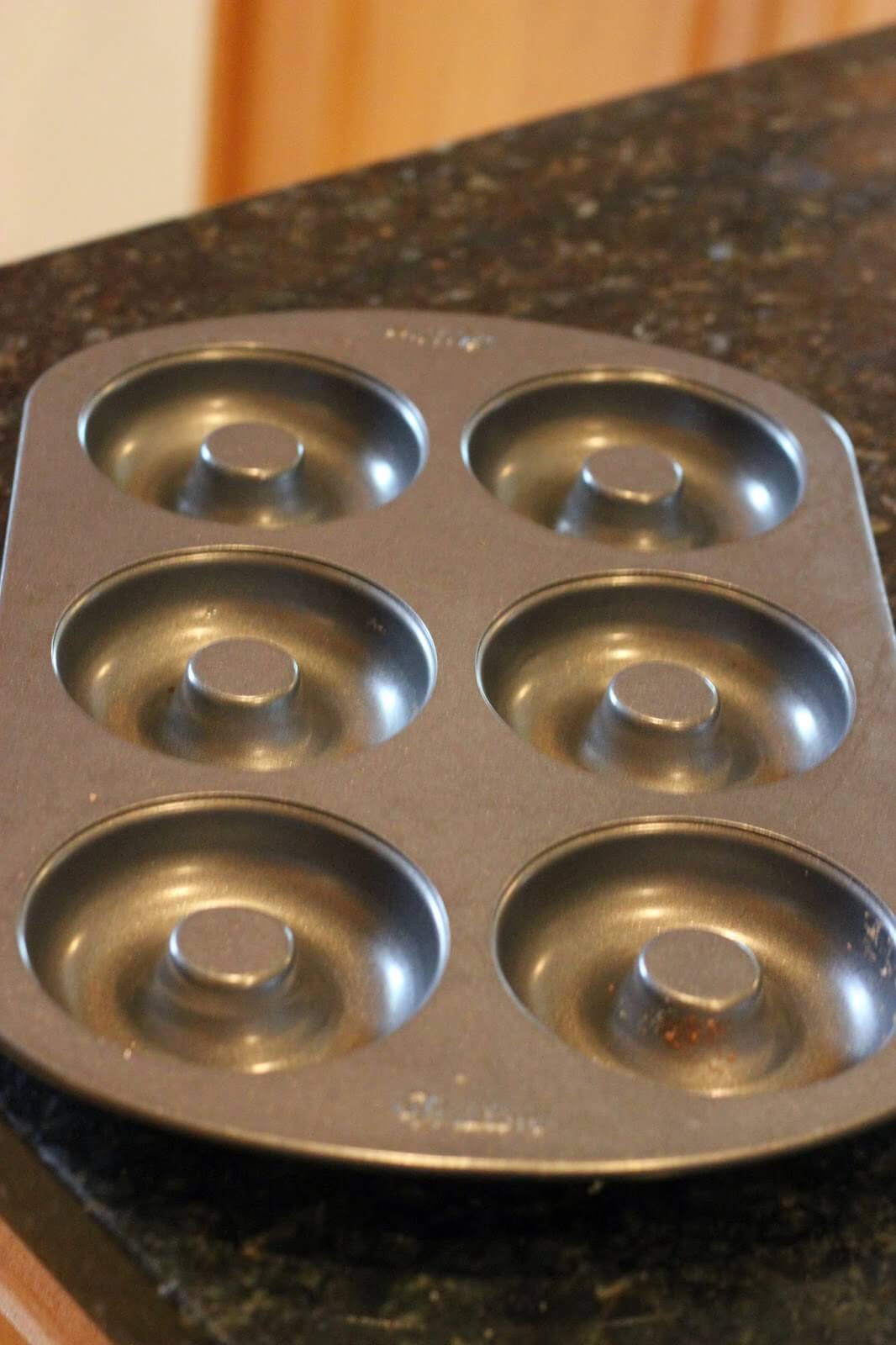 I originally found this recipe on
Joy the Baker
and fell in love with it. I've tweaked it to include more brown butter (duh), the addition of cinnamon and given a few other topping suggestions. The kinds of toppings you can put on these are truly endless...chocolate, white & almond glazes, nuts, sprinkles, cinnamon & sugar, and my personal favorite: chocolate glaze with toasted coconut and pecans. My friend Hope, who has been maniacally making donuts as well, told me she stirred a little milk into some Nutella and dipped the donuts in it. That will likely be my next favorite flavor.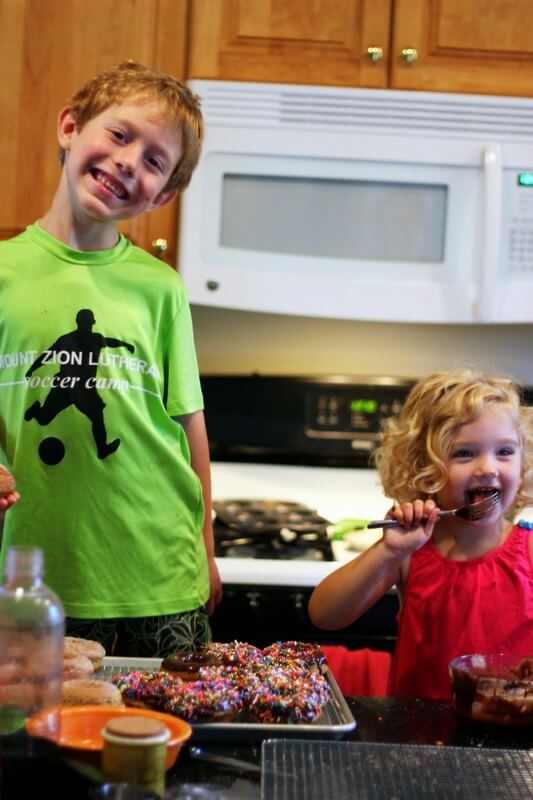 Decorating the donuts is a super fun thing to do with young kids. It has become a major activity in our house, especially when our friends with kids come to visit. Just keep your eye on them so they're not licking their fingers after dipping every donut (like, ahem, Miss Anna always seems to do).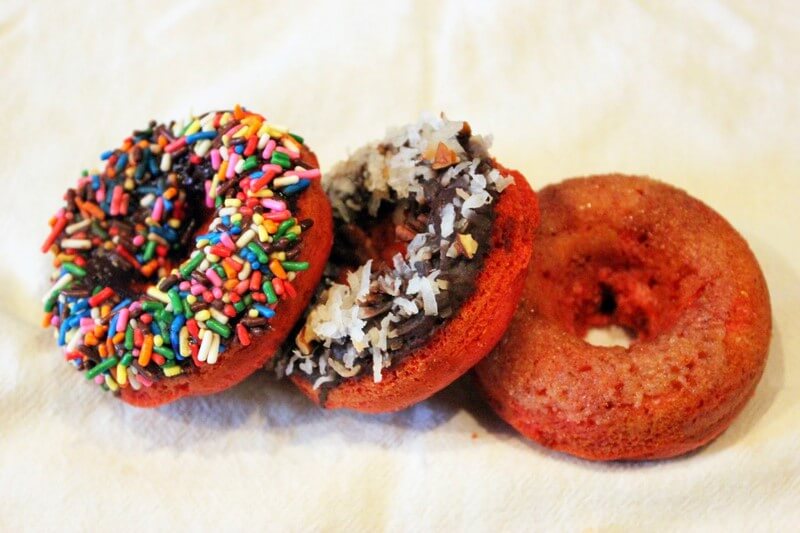 Brown Butter Baked Donuts
Makes 12 donuts
Donuts:
6 tablespoons unsalted butter
2 cups (280 grams) all-purpose flour
1 1/2 teaspoons baking powder
1/2 teaspoon baking soda
1 teaspoon salt
1 teaspoon cinnamon
2/3 cup (150 grams) granulated sugar
2 large eggs
1 cup buttermilk
2 teaspoons vanilla extract
Glaze:
3 cups powdered sugar
6-8 tablespoons
Optional add-in ideas:
6 tablespoons cocoa powder
1 teaspoon vanilla extract
1/2 teaspoon almond or any other extract
Topping Ideas:
Toasted nuts
Toasted coconut
Sprinkles
Chopped, dried fruit
Cinnamon and sugar
Preheat oven to 350F. Grease a donut pan with oil or non-stick spray.
To make the donuts: In a medium saucepan, melt the butter on medium-high heat, swirling the pan continuously, until the butter is light brown and has a nutty fragrance. Watch the butter carefully and remove from the heat as soon as it browns to avoid burning. Set aside to cool slightly.
In a medium bowl whisk together the flour, baking powder, soda, salt, cinnamon and sugar. In another small bowl whisk together the eggs, buttermilk and vanilla extract. Slowly whisk in the slightly cooled brown butter.
Add the wet ingredients all at once to the dry ingredients and fold in until mixed and no flour streaks remain.
At this point you can either spoon the batter into the donut pan, about 2/3 full, or pipe it in. I prefer to pipe it in because I feel its less messy and the donuts turn out more uniformly shaped. To pipe the batter in, fill a pastry bag or gallon ziploc bag with the batter. If using the ziploc bag, snip a small bit off one of the corners of the bag. Pipe the batter directly into the donut pan, about 2/3 full.
Bake for 10-12 minutes, or until the donuts spring back when you touch them. Set aside to cool in the pan while you make the glaze.
To make the glaze: stir 6 tablespoons of milk into the powdered sugar, and cocoa if using, and stir until all lumps are out of the glaze. Add extracts at this point, if using, Add more milk as necessary to have a thick but pourable glaze.
Topping the donuts: Once the donuts have cooled, pop them out of the pan by either using a fork or turning the pan over onto a cooling rack. Put the cooling rack over a cookie sheet to catch the glaze drips and make for easier cleanup. If using other toppings besides glaze, put them on a small plate.
Dip each donut into the glaze halfway, then pick up and dip into the topping of your choice. Return to the cooling rack and repeat with the remaining donuts. Then you should...
EAT IT!!