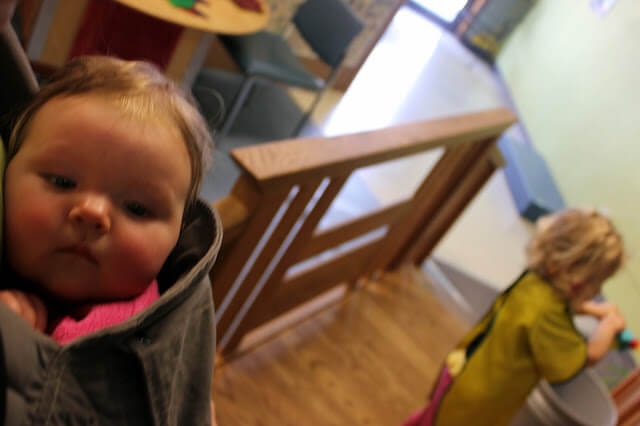 Another day with my girls. Stay-at-home mom is harder than I thought it was going to be. Always the first question of the day: what's for breakfast? Then: what's for lunch? Then: what's for dinner? I feel like my life is a flurry of meals and dishes, with brief intermissions for stories, lego building and more stories. I get bored. There is so much to do, but everyday blurs into another and I need something new.
Today we got it. I spent a few moments last week searching desperately for something new to do, a way to fill our time that doesn't involve food or chores or reading Olivia for the 5,000th time! Today we made it out of the house at the crack of 10:45 and went to the Children's Museum where there was a free (!) activity: Toddler Tae Kwon Do. Anna, in the way that is entirely Anna, stared wide-eyed at the other toddlers for the entire 20 minute class and at the end took off her shoes and ran to give the instructor a high-five. That's my girl.
The museum cleared out after this and Anna spent the next hour exploring every exhibit with rapture since there were no other kids around to knock her out of the way or intimidate her. I was proud watching her go to each exhibit and figure out what to do. She didn't need nor want me to interact. So, I just watched, with Claire snug on my chest dozing and nursing and pressing her heart against mine.
We needed this day. We needed a change, to step out of our routine and into a day filled with exploring and eyes anew. Let's do this again. Let's make new happen on a weekly basis. The dishes can wait.
This is my first link up with
Just Write
, an exercise in free writing which was started by Heather at Extraordinary Ordinary. I hope to make this a weekly occurrence (because I just had a blast writing this).