Before getting to the promised task at hand, I have some majorly big business to address. First, (I am still in a state of shock and disbelief) thank you so much to everyone that voted me into the
FoodBuzz Top 9
on Friday! The
Dark Chocolate Mocha Buttercream Cake
I made last weekend was both fun and therapeutic for me, and the fact that it made into the Top 9 was a major win for me. So, thank you, thank you and thank you! I actually started crying when I read the first email congratulating me on Top 9. It means a lot.
Second, I have a winner for the
OXO salad spinner giveaway
I posted last week. The winner was lucky number 5, jwfong, which random.org selected for me. Congratulations! I'll be in touch shortly.
Now, onto the star of the show...chocolate curls (like the ones on top of my cake that made the Top 9, surely it was the curls that got it there).
How-to: Chocolate Curls
3 ounces chocolate (I used bittersweet)
1 tablespoon coconut oil (shortening can be substituted)
Melt the chocolate and coconut oil in the microwave in 30 second increments, stirring after each increment, until completely melted and smooth.
Using an offset spatula, spread the chocolate on an overturned rimmed baking sheet, until smooth and evenly distributed. Put the entire baking sheet into the freezer for 2 minutes.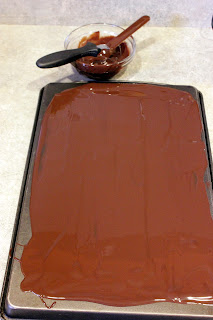 Remove from the freezer and, using an overturned metal spatula (turner), lightly push the chocolate away from you to form the curls. If the chocolate is too hard, it will not curl and will look like this: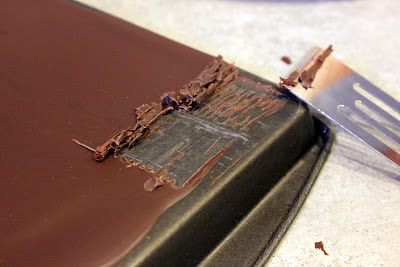 If this is the case, allow to sit at room temperature for 30-60 seconds more and then try again. Repeat until the chocolate is the right temperature and the chocolate curls easily under the spatula, like so: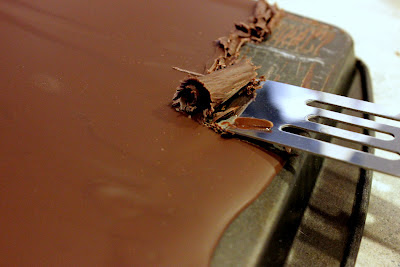 The chocolate will melt very quickly if touched, so try to to move the chocolate to a ceramic plate or other cool surface using the spatula. Put them in the refrigerator as soon as possible and keep there until you are ready to use them.
Because the chocolate is spread so thinly, you will likely have to return it to the freezer several times during the curling process because it will begin to melt quickly.
When you are ready to use the curls, remove from the fridge and work quickly to decorate your cake/cupcake/etc. touching the curls as little as possible. Once you've gussied up your awesome dessert with these curls, go ahead...
Eat it!!