I have been on a roller coaster of emotions these past few weeks. If you've been keeping up with my posts, you know that life has had some ups and downs lately. And these ups and downs have pulled me out of the kitchen and into real life. This weekend I got to spend hours in the kitchen baking and decorating a cake for a friend's birthday and at the end of it I felt revived and renewed. After spending hours on my feet I felt energized and truly alive for the first time in weeks. I feel so fortunate to have something in my life that brings me (and others, for that matter) such joy. I am breathing in gratefulness this week. Life is good. Oh is it good.
And so was this cake. Actually, this cake was beyond good...it skyrocketed right past good, great, excellent and amazing, and fell unscathed into the lap of perfect. This cake was all sorts of intense. Four layers of dark chocolate cake....with layers of bittersweet espresso ganache...and mocha buttercream...topped with toffee and chocolate curls.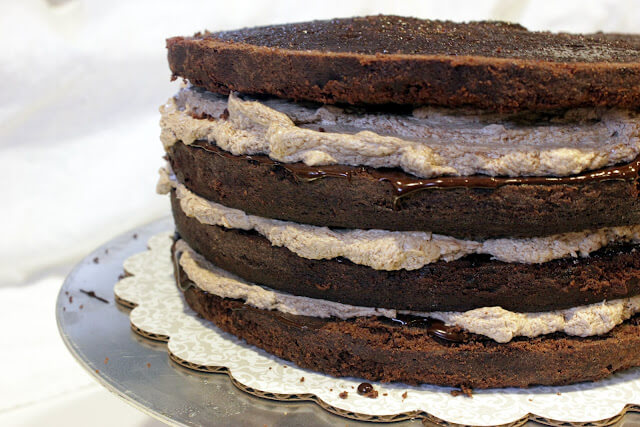 I had an obscene amount of fun making this cake. I love being challenged with a new recipe. I love finding recipes with an absurd amount of steps that would have a non-baker running away in terror. I love when the end product looks and tastes as amazing as the amount of time I put into it. Let's just say, this cake fulfilled the baking nerd in me.
I also got to try my hand at making chocolate curls which filled me an irrational amount of giddiness. The tutorial for the chocolate curls can be found
here
. Such a fun easy way to gussy up a cake.
This was a conglomeration of several recipes. The cake came from my all-time favorite baking book flour by Joanne Chang, the
frosting
and
ganache
were adapted from Southern Living and the idea for toffee and chocolate curls came from this little brain of mine. This is definitely a special occasion cake because it takes some time, but believe me, it is worth every second you put into it.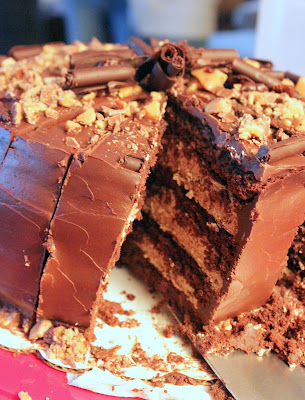 PRINT THIS RECIPE!
Dark Chocolate Cake with Mocha Buttercream & Toffee
Dark Chocolate Cake
Note: The cake can be made up to a week ahead of time. Bake, allow to cool and then wrap tightly in plastic wrap and freeze. Remove from the freezer about an hour before you are going to frost it.
1/2 cup (60 grams) dutch-processed cocoa
1 ounce (28 grams) unsweetened chocolate, finely chopped
1 cup boiling water
1 3/4 cup + 2 tablespoons (225 grams) cake flour
1/2 teaspoon kosher salt
1 teaspoon baking soda
1 1/2 cups brown sugar, packed
1 cup (2 sticks) unsalted butter, softened and cut into 1-inch pieces
1/4 cup (60 grams) creme fraiche
2 eggs
2 egg yolks
Preheat oven to 350F. Butter, flour and line the bottoms with parchment paper of two 9-inch cake pans.
Combine cocoa powder and unsweetened chocolate in a small heat-proof bowl. Pour the boiling water on top and whisk until completely smooth. Place in the fridge for 45 minutes, whisking every 15 minutes, until cooled to room temperature.
Combine flour, salt, baking soda and brown sugar in the bowl of a stand mixer fitted with the paddle, and mix until combined. Add the butter and beat on low speed for 30-40 seconds, or until the mixture resembles a dough and is thoroughly combined.
Whisk the creme fraiche, eggs and yolks in a small bowl. With the mixer on low, slowly pour the creme fraiche mixture into the dough until thoroughly combined. Turn the mixer up to medium high and beat for 2 minutes until light and fluffy. Stop the mixer and scrape down the sides of the bowl, then return the mixer speed to low. Slowly pour in the cooled chocolate mixture. Stop the mixer and scrape down the sides of the bowl, then mix on medium for 30-40 seconds until the chocolate is completely incorporated and evenly distributed in the batter.
Pour the batter into the prepared pans. Bake 30-40 minutes, or until a toothpick inserted in the middle comes out with just a few crumbs sticking to it. Allow cakes to cool completely on a wire rack in the pan. Once cooled, invert the pan on a flat surface and peel off the parchment paper.
Meanwhile....while you are waiting for your cakes to cool.
Mocha Buttercream Frosting
1/2 cup (70 grams) all-purpose flour
3 Tablespoons unsweetened cocoa powder
3 Tablespoons instant espresso powder
1 1/2 cups half-and-half
1 1/2 cups (3 sticks) unsalted butter, softened
1 1/2 cups powdered sugar
2 teaspoons vanilla extract
In a small saucepan, whisk together flour, cocoa, espresso powder and half-and-half. Whisk constantly over medium heat for approximately 5 minutes or until thickened (it will resemble a pudding). Transfer to a small bowl and cover the surface with plastic wrap to avoid forming a skin. Set aside and allow to cool to room temperature, about 45 minutes.
When the mixture has cooled, beat butter and powdered sugar in a stand mixture fitted with the paddle attachment, until light and fluffy, about 4 minutes. Slowly add the cooled cocoa mixture on low speed until thoroughly combined. Add vanilla and beat on low for 20 seconds to combine. At this point the mixture should resemble whipped cream (dreamy creamy mocha whipped cream!).
While you're waiting for the buttercream to cool do this...
Dark Chocolate Espresso Ganache
2 tablespoons espresso powder
1 teaspoon granulated sugar
1/4 cup hot water
12 ounces dark or bittersweet chocolate, finely chopped
1 1/4 cups heavy cream
1 tablespoon butter
In a small bowl, combine the espresso powder and sugar. Add hot water and stir to combine. Set aside.
In a small saucepan, heat the cream over medium heat until just boiling, then quickly remove from the heat. Pour the cream over the chocolate in a bowl and whisk until smooth and no chocolate chunks remain. Stir in the butter and 3 tablespoons of the espresso mixture. (The rest of the espresso mixture can be discarded.)
Allow ganache to stand at room temperature for 1 hour or until it is thick enough to spread.
2 Heath bars, coarsley chopped
Chocolate Curls
Simple Syrup - boil 1/2 cup sugar & 1/2 cup water for 2 minutes (the simple syrup isn't completely necessary, but I find it adds a lot of moisture to my cakes and is a simple way to really amp up the cake)
Note on cutting cake layers: There are definitely different camps on this, but I like to freeze my cakes for 20 minutes before cutting them. Because the cake is firmer, I find it easier to work with and much easier to cut into layers.
Cut each cake in half lengthwise so that you have 4 layers. Put your first layer on a cake stand and brush generously with simple syrup. And add enough ganache to thinly cover the top of the cake. Next add 1/3 of the mocha buttercream on top of the ganache and gently spread to cover the top of the cake. Repeat these steps two more times and end with an unfrosted cake layer on top, brushed with simple syrup.
Add several large dollops of the remaining ganache to the top of the cake and spread with an offset spatula on the top and down the sides of the cake. Continue adding small dollops of ganache to the cake until the top and sides are completely covered with ganache.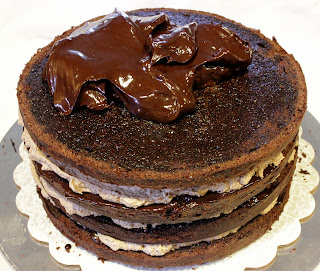 Now, this next part is up to you and how perfectionistic you are. Smooth the sides of the cake with an offset spatula until desired smoothness is acheived. You can spend a lot of time on this, so get it as smooth as you can tolerate, and then move on. See Exhibit A...not perfect, but it'll do.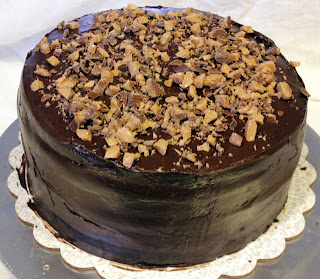 This is Exhibit A.
Now, toss a bunch of Heath on the top and wherever else you want to put it (try to stop yourself from putting it in your mouth, you'll get plenty of that later!). Decorate with chocolate curls and finally...finally...you get to...
Eat it!!!