Children, without a doubt, model their parent's behaviors, both good and bad. Therefore, I firmly believe that if I take care of myself, my children are bound to follow. We generally eat pretty healthy in our house, but I have been making an effort to kick it up a notch post-baby to get my body back in shape and keep my energy level up. Two things I have done recently is joining the YMCA and cooking quick, healthy meals every night that both satisfy and taste delicious.
With these small changes, the baby weight is starting to shed itself and my energy level is back to a place that doesn't make the demands of a toddler and newborn unbearable. (It also helps that Claire, has been a pretty good sleeper. So, the sleep deprivation is minimal compared to my first newborn experience...which was sleep deprivation hell!)
This cous cous salad has quickly become a new staple in our household. It literally comes together in 15 minutes and it is crazy delicious and packed with nutrition. I serve it warm the first night I make it, but is great cold out of the fridge the next day too.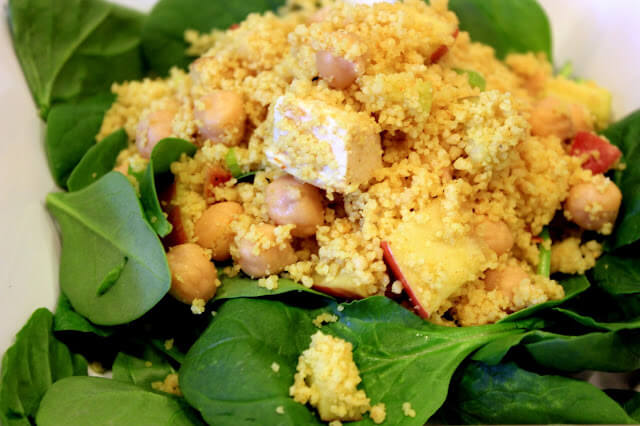 Curried Cous Cous Salad with Chicken & Apple
Adapted from Weight Watchers
Serves 6
1 1/2 cups water
1 1/2 teaspoons curry powder
1 teaspoon kosher salt
1 cup plain cous cous
1 (15 1/2 oz) can chickpeas, drained and rinsed
1 red apple, unpeeled, cored and diced
1 cup chicken breast, chopped, from a rotisserie chicken
2 green onions, sliced
3 tablespoons lemon juice
1 tablespoon olive oil
6 ounces spinach
Bring the water, 1 teaspoon curry powder and 1/2 teaspoon salt to a boil in a medium saucepan. Add the cous cous, cover and remove from the heat. Allow to stand for 5 minutes, until all the water is absorbed and then fluff the cous cous with a fork.
Meanwhile, in a large bowl combine the chickpeas, apple, chicken, green onions, lemon juice, olive oil, remaining 1/2 teaspoon curry and remaining 1/2 teaspoon salt. Add the cous cous and stir to mix. Divide the spinach among 6 bowls and top with the cous cous mixture. Then hurry up and...
EAT IT!!