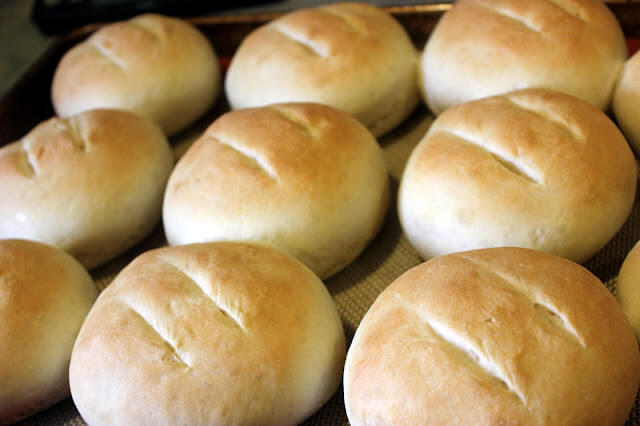 I am
flabbergasted
that it has taken me this long to post this recipe. I make these buns at least once a week and they are the most requested bread item from Mace and the rest of my family. I think they are so ingrained in my brain and my daily life that they never hit my blog radar. Utterly flabbergasted.
These buns are easy to make, requires ingredients you already have on hand (granted you are a frequent bread maker and have yeast), and so soft, supple and delicious you will not be able to eat just one. I make them often to go with turkey burgers and hamburgers, but the leftovers are great toasted the next day for sandwiches or breakfast with a bit of PB&J.
If you are anything like me and are obsessed with your kitchen scale, then you may take the extra step and weigh out each bun so they are exactly the same size. Although, this isn't necessary (unless, as I said, you are scale obsessed and then this is
absolutely
necessary). The only true advantage to weighing the rolls is that you won't have to worry about snatching the biggest roll for yourself because they are all the same size!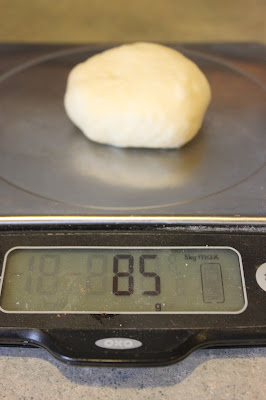 There have been studies done on the affect that fresh baked bread has on people's emotions. I am not a scientist and don't really remember the actual results of this study, but I know that it makes people happy. I know this to be true because we are always happy when we have fresh baked rolls in the house. I never regret having homemade bread in the oven or in my mouth. You won't regret it either...promise.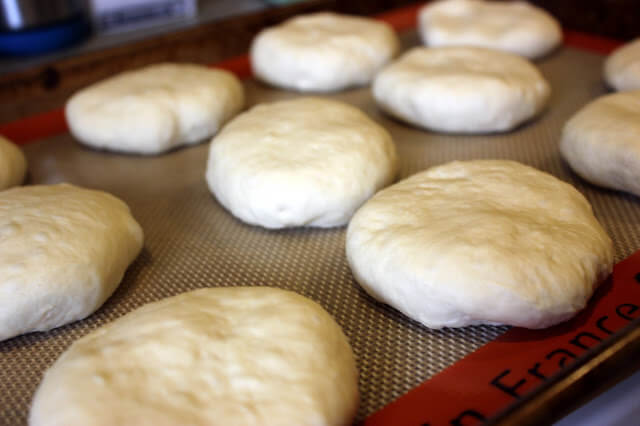 French Bread Rolls
Makes 12 rolls
1 1/2 cups warm water (approx 110 degrees)
2 1/4 teaspoons (1 package) active dry yeast
1 tablespoon granulated sugar
2 tablespoons olive oil, plus more for brushing
1 1/2 teaspoons kosher salt
4 cups all-purpose flour
In the bowl of a stand mixer fitted with the dough hook, combine the water and yeast and allow to sit for approximately 5 minutes. Once the yeast proofs (this is when it rises to the top and is slightly foamy) add the sugar, olive oil, salt and 3 cups of flour.
Mix on low speed until the dough comes to together. Add the remaining one cup of flour a little at a time until the dough comes together completely and a ball forms (you may not need the entire cup). Once the ball forms, continue to mix on low for another 4-5 minutes until the dough becomes smooth and elastic.
Put the dough in a well oiled bowl and then turn the dough over once so the oiled side is up. Cover tightly with plastic wrap and allow to sit in a warm place for approximately one hour or until the dough is doubled in size.
Punch the dough down and divide into twelve equal pieces. If you are weighing the dough they will be approximately 85 grams each. Shape each piece into a ball (fine cooking has a great tutorial
here
) and then flatten each piece with the palm of your hand. Flattening them will give them less height and more girth.
Put the rolls on a baking sheet lined with parchment paper or a silpat mat approximately 1" apart. Sprinkle flour generously on top of the rolls and then cover with plastic wrap. Allow to rise 30-45 minutes or until doubled in size.
Meanwhile...preheat the oven to 400 degrees F.
Once the rolls have doubled in size, remove the plastic wrap, and then using a sharp knife cut two parallel lines in the top if each roll. This is purely decorative, so if you want to make crisscrosses or nothing at all, it is perfectly fine. Brush the top of each roll with olive oil and then bake for 12-14 minutes or until the rolls are light golden brown. Allow to cool on a wire rack for 20-30 minutes, or they are also delicious warm so you can also just go ahead and...
EAT IT!!